The role of microenvironment in tumor angiogenesis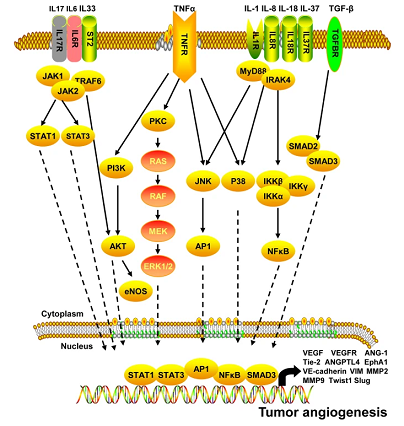 Tumor angiogenesis is necessary for the continued survival and development of tumor cells, and plays an important role in their growth, invasion, and metastasis. The tumor microenvironment—composed of tumor cells, surrounding cells, and secreted cytokines—provides a conducive environment for the growth and survival of tumors. Different components of the tumor microenvironment can regulate tumor development. In this review, we have discussed the regulatory role of the microenvironment in tumor angiogenesis. High expression of angiogenic factors and inflammatory cytokines in the tumor microenvironment, as well as hypoxia, are presumed to be the reasons for poor therapeutic efficacy of current anti-angiogenic drugs. A combination of anti-angiogenic drugs and antitumor inflammatory drugs or hypoxia inhibitors might improve the therapeutic outcome.
Click here to access all of the reviews published to date in Journal of Experimental & Clinical Cancer Research.