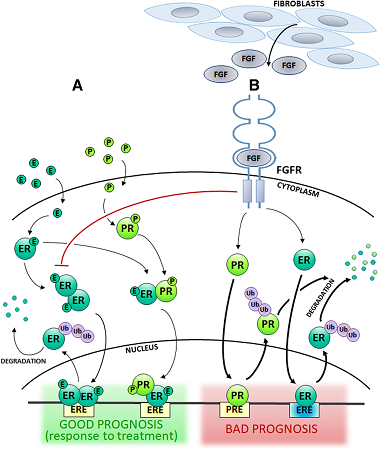 Stromal stimuli mediated by growth factor receptors, leading to ligand-independent activation of steroid hormone receptors, have long been implicated in development of breast cancer resistance to endocrine therapy. Mutations in fibroblast growth factor receptor (FGFR) genes have been associated with a higher incidence and progression of breast cancer. Increasing evidence suggests that FGFR-mediated interaction between luminal invasive ductal breast carcinoma (IDC) and its microenvironment contributes to the progression to hormone-independence. Therapeutic strategies based on FGFR inhibitors hold promise for overcoming resistance to the ER-targeting treatment.
In this Review, Romanska et al. provide a concise updated summary of existing literature on FGFR-mediated signalling with an emphasis on an interaction between FGFR and estrogen/progesterone receptors (ER/PR) in IDC. Focusing on the regulatory role of tumour microenvironment in the activity of steroid hormone receptors, the authors compile the available functional data on FGFRs-mediated signalling, as a fundamental mechanism of luminal IDC progression and failure of anti-ER treatment. They also highlight the translational value of the presented findings and summarize ongoing oncologic clinical trials investigating FGFRs inhibition in interventional studies in breast cancer.
Click here to access all of the reviews published to date in Journal of Experimental & Clinical Cancer Research.