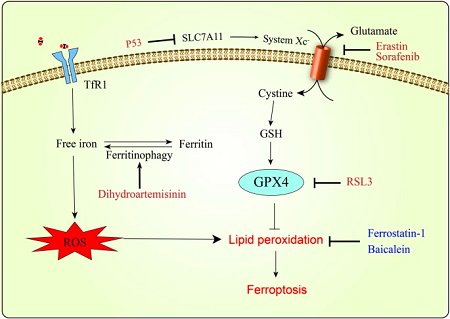 Iron, an indispensable element for life, is involved in all kinds of important physiological activities. Iron promotes cell growth and proliferation, but it also causes oxidative stress damage. The body has a strict regulation mechanism of iron metabolism due to its potential toxicity. As a cancer of the bone marrow and blood cells, leukemia threatens human health seriously. Current studies suggest that dysregulation of iron metabolism and subsequent accumulation of excess iron are closely associated with the occurrence and progress of leukemia. Specifically, excess iron promotes the development of leukemia due to the pro-oxidative nature of iron and its damaging effects on DNA. On the other hand, leukemia cells acquire large amounts of iron to maintain rapid growth and proliferation. Therefore, targeting iron metabolism may provide new insights for approaches to the treatment of leukemia.
This review summarizes physiologic iron metabolism, alternations of iron metabolism in leukemia and therapeutic opportunities of targeting the altered iron metabolism in leukemia, with a focus on acute leukemia.
Click here to access all of the reviews published to date in Journal of Experimental & Clinical Cancer Research.