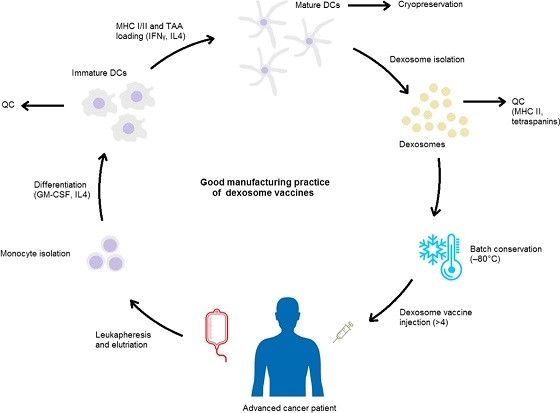 Dendritic cells (DCs) secrete vast quantities of exosomes termed as dexosomes. Dexosomes are symmetric nanoscale heat-stable vesicles that consist of a lipid bilayer displaying a characteristic series of lipid and protein molecules. They include tetraspanins and all established proteins for presenting antigenic material such as the major histocompatibility complex class I/II (MHC I/II) and CD1a, b, c, d proteins and CD86 costimulatory molecule. Dexosomes contribute to antigen-specific cellular immune responses by incorporating the MHC proteins with antigen molecules and transferring the antigen-MHC complexes and other associated molecules to naïve DCs. A variety of ex vivo and in vivo studies demonstrated that antigen-loaded dexosomes were able to initiate potent antitumor immunity. Human dexosomes can be easily prepared using monocyte-derived DCs isolated by leukapheresis of peripheral blood and treated ex vivo by cytokines and other factors. The feasibility of implementing dexosomes as therapeutic antitumor vaccines has been verified in two phase I and one phase II clinical trials in malignant melanoma and non small cell lung carcinoma patients. These studies proved the safety of dexosome administration and showed that dexosome vaccines have the capacity to trigger both the adaptive (T lymphocytes) and the innate (natural killer cells) immune cell recalls.
In this review, we will focus on the perspective of utilizing dexosome vaccines in the context of cancer immunotherapy.
Click here to access all of the reviews published to date in Journal of Experimental & Clinical Cancer Research.