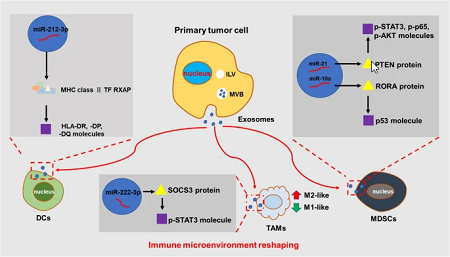 Tumor microenvironment (TME) is the internal environment in which tumor cells survive, consisting of tumor cells, fibroblasts, endothelial cells, and immune cells, as well as non-cellular components, such as exosomes and cytokines. Exosomes are tiny extracellular vesicles (40-160nm) containing active substances, such as proteins, lipids and nucleic acids. Exosomes carry biologically active miRNAs to shuttle between tumor cells and TME, thereby affecting tumor development. Tumor-derived exosomal miRNAs induce matrix reprogramming in TME, creating a microenvironment that is conducive to tumor growth, metastasis, immune escape and chemotherapy resistance.
In this review, Zhou & Liao et al. updated the role of exosomal miRNAs in the process of TME reshaping.
Click here to access all of the reviews published to date in Journal of Experimental & Clinical Cancer Research.