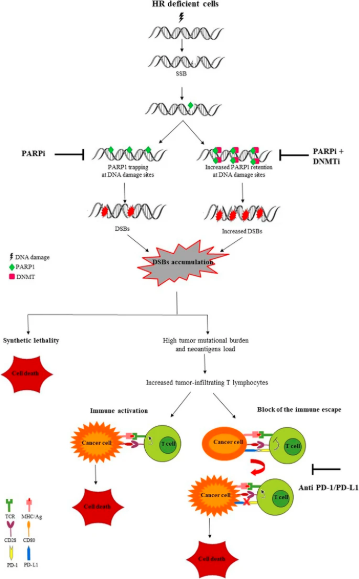 Novel therapeutic strategies are urgently needed for the treatment of metastatic Urothelial Bladder Cancer. DNA damaging repair (DDR) targeting has been introduced in clinical trials for bladder cancer patients that carry alterations in homologous DNA repair genes, letting to envisage susceptibility to the Poly (adenosine diphosphate [ADP]) ribose polymerase (PARP) inhibitors.
PARP inhibition, by amplifying the DNA damage, augments the mutational burden and promotes the immune priming of the tumor by increasing the neoantigen exposure and determining upregulation of programmed death ligand 1 (PD-L1) expression. Thus, the combination of PARP-inhibition and the PD/PD-L1 targeting may represent a compelling strategy to treat bladder cancer and has been introduced in recent clinical trials. The targeting of DDR has been also used in combination with epigenetic drugs able to modulate the expression of genes involved in DDR, and also able to act as immunomodulator agents suggesting their use in combination with immune-checkpoint inhibitors.
It may be envisaged the combination of three classes of drugs to treat bladder cancer, by targeting the DDR process in a tumor context of DDR defect, together with epigenetic agents and immune-checkpoint inhibitors, whose association may amplify the effects and reduce the doses and the toxicity of each single drug.
Click here to access the full article.
Click here to access all of the reviews published to date in Journal of Experimental & Clinical Cancer Research