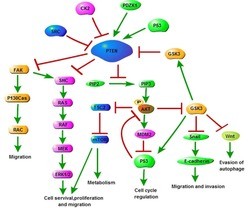 Phosphatase and tensin homologue (PTEN) triggers a battery of intracellular signaling pathways that play important roles in the pathogenesis of multiple diseases, such as cancer and neurodevelopmental disorders. Therefore, targeting the abnormal expression level of PTEN is anticipated to offer novel therapeutic avenues. Noncoding RNAs (ncRNAs) have been reported to regulate PTEN expression epigenetically or posttranscriptionally. In this review, Wang Li et al. present current understandings of the regulation of PTEN by ncRNAs, which could contribute to the development of novel approaches to the diseases with abnormal expression of PTEN.
Click here to access the full article.
Click here to access all of the reviews published to date in Journal of Experimental & Clinical Cancer Research.