Erratum to Expression of miRNA-106b in conventional renal cell carcinoma is a potential marker for prediction of early metastasis after nephrectomy
Journal of Experimental & Clinical Cancer Research volume 29, Article number: 105 (2010)
2581 Accesses

2 Citations
Correction
After the publication of this research article [1], the authors noticed an error with Figure 1. Graph D which should have indicated miR-106b expression levels in renal parenchyma (RP) and renal cell carcinomas (RCC), was mistakenly displayed as a duplicate of Graph C. The corrected Figure 1 is provided here.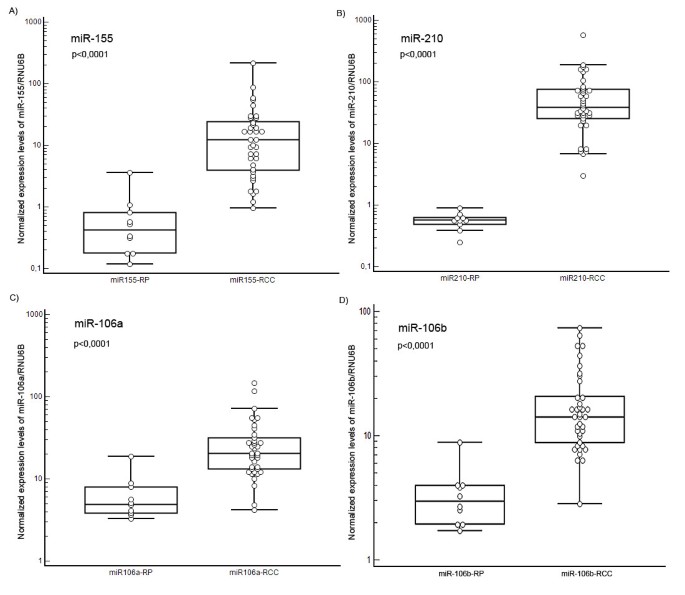 References
Slaby O, Jancovicova J, Lakomy R, Svoboda M, Poprach A, Fabian P, Kren L, Michalek J, Vyzula R: Expression of miRNA-106b in conventional renal cell carcinoma is a potential marker for prediction of early metastasis after nephrectomy. Journal of Experimental & Clinical Cancer Research. 2010, 29: 90-10.1186/1756-9966-29-90.
Authors' original submitted files for images
Below are the links to the authors' original submitted files for images.
Rights and permissions
This article is published under license to BioMed Central Ltd. This is an Open Access article distributed under the terms of the Creative Commons Attribution License (http://creativecommons.org/licenses/by/2.0), which permits unrestricted use, distribution, and reproduction in any medium, provided the original work is properly cited.
About this article
Cite this article
Slaby, O., Jancovicova, J., Lakomy, R. et al. Erratum to Expression of miRNA-106b in conventional renal cell carcinoma is a potential marker for prediction of early metastasis after nephrectomy. J Exp Clin Cancer Res 29, 105 (2010). https://doi.org/10.1186/1756-9966-29-105
Received:

Accepted:

Published:

DOI: https://doi.org/10.1186/1756-9966-29-105