The mechanisms by which polyamines accelerate tumor spread
Journal of Experimental & Clinical Cancer Research
2011
30:95
Received: 15 July 2011
Accepted: 11 October 2011
Published: 11 October 2011
Abstract
Increased polyamine concentrations in the blood and urine of cancer patients reflect the enhanced levels of polyamine synthesis in cancer tissues arising from increased activity of enzymes responsible for polyamine synthesis. In addition to their de novo polyamine synthesis, cells can take up polyamines from extracellular sources, such as cancer tissues, food, and intestinal microbiota. Because polyamines are indispensable for cell growth, increased polyamine availability enhances cell growth. However, the malignant potential of cancer is determined by its capability to invade to surrounding tissues and metastasize to distant organs. The mechanisms by which increased polyamine levels enhance the malignant potential of cancer cells and decrease anti-tumor immunity are reviewed. Cancer cells with a greater capability to synthesize polyamines are associated with increased production of proteinases, such as serine proteinase, matrix metalloproteinases, cathepsins, and plasminogen activator, which can degrade surrounding tissues. Although cancer tissues produce vascular growth factors, their deregulated growth induces hypoxia, which in turn enhances polyamine uptake by cancer cells to further augment cell migration and suppress CD44 expression. Increased polyamine uptake by immune cells also results in reduced cytokine production needed for anti-tumor activities and decreases expression of adhesion molecules involved in anti-tumor immunity, such as CD11a and CD56. Immune cells in an environment with increased polyamine levels lose anti-tumor immune functions, such as lymphokine activated killer activities. Recent investigations revealed that increased polyamine availability enhances the capability of cancer cells to invade and metastasize to new tissues while diminishing immune cells' anti-tumor immune functions.
Keywords
Polyamine
metastasis
spermine
spermidine
LAK
LFA-1
1. Introduction
Polyamines, which include spermidine and spermine, are polycations with three or four amine groups. Almost all cells can produce polyamines, but their production is especially high in rapidly growing cells. Polyamine concentrations are often increased in the blood and urine of cancer patients, and these increased levels have been shown to correlate with poor prognosis [1]. The increased blood and urinary polyamine levels are attributable to increased polyamine synthesis by cancer cells, since these increases can be abolished by complete eradication of tumors by surgery or radio-chemotherapy [2–5]. The capacity of cancer tissue to produce abundant polyamines likely contributes to cancer cells' enhanced growth rates because polyamines are indispensable for cellular growth, which may at least partially explain why cancer patients with increased polyamine levels have a poorer prognosis [4–9]. However, an important factor that determines the malignant potential of cancer cells is the capability of cells to invade to surrounding tissues and to metastasize to distant organs. Therefore, it is important to understand the role of polyamines in cancer invasion and metastasis. In this review, recent experimental results from our and other groups are discussed.
2. What are polyamines?
The natural polyamines, spermidine, and spermine, are found in almost every living cell at high micromolar to low millimolar quantities [
10
]. Polyamines are synthesized from arginine and s-adenosylmethionine with arginase converting arginine to ornithine, and ornithine decarboxylase (ODC) catalyzing ornithine decarboxylation to form putrescine, a polyamine precursor containing two amine groups (Figure
1
). Polyamines are involved in diverse functions involved in cell growth and differentiation, such as DNA synthesis and stability, regulation of transcription, ion channel regulation, and protein phosphorylation [
11
–
14
].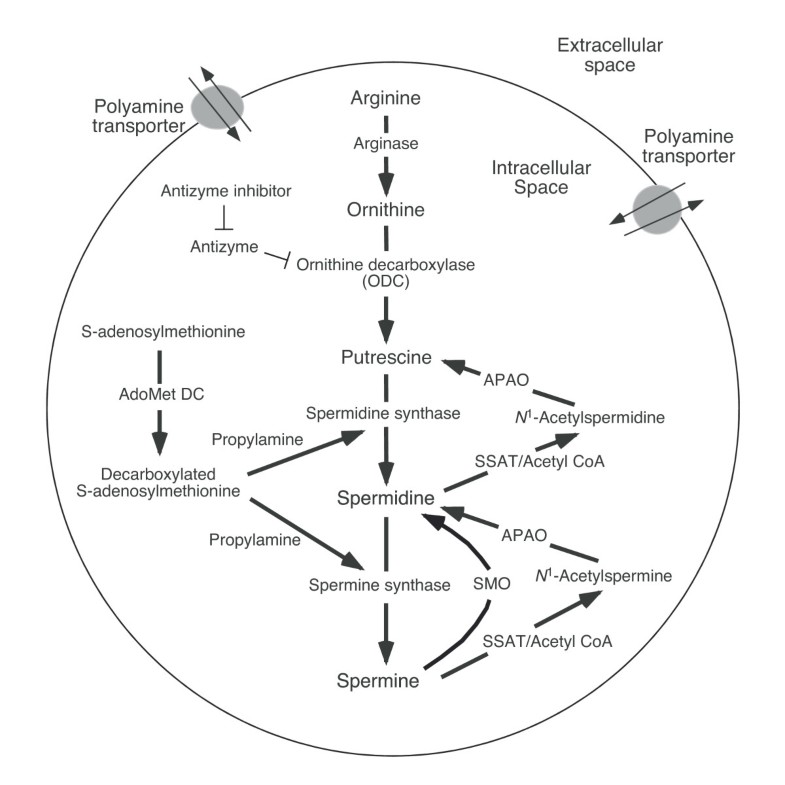 Intracellular spermine and spermidine are degraded by spermidine/spermine N1-acetyltransferase (SSAT) and N1-acetylpolyamine oxidase (APAO). SSAT, a highly inducible enzyme, catalyzes the transfer of an acetyl group from acetyl-coenzyme A to the aminopropyl moiety of spermine and spermidine. APAO was previously described as polyamine oxidase but it preferentially catalyzes the oxidation of the N1-acetylspermine and N1-acetylspermidine produced by SSAT activity. This oxidation results in the production of H2O2, 3-acetoaminopropanal, and putrescine or spermidine (Spd), depending on the initial substrate [15–17]. Mammalian spermine oxidase (SMO) is an inducible enzyme that specifically oxidizes spermine, with the production of H2O2, 3-aminopropanal (3AP) and spermidine [16, 17].
In addition to de novo synthesis and degradation, cellular polyamine concentrations are also regulated by transmembrane transport where cells take up polyamines from their surroundings or export them to the extracellular space (Figure 1).
3. Polyamines and cancer
Polyamine biosynthesis is up-regulated in actively growing cells, including cancer cells [10, 18, 19], therefore polyamine concentration as well as gene expression and activity of enzymes involved in polyamine biosynthesis, especially ODC, are higher in cancer tissues than in normal surrounding tissues [8, 20–25].
Numerous reports have shown that both blood and urine polyamine concentrations are often increased in cancer patients [4, 5, 7, 8, 10]. A close correlation between blood polyamine levels and the amount of urinary polyamines has also been found in cancer patients [1]. Moreover, these levels decrease after tumor eradication and increase after relapse [2–5, 23], indicating that polyamines synthesized by cancer tissues are transferred to the blood circulation and kidney, where they are excreted into the urine [26].
Polyamines are also produced in other parts of the body and can be transported to various organs and tissues such as the intestinal lumen where polyamines are absorbed quickly to increase portal vein polyamine concentrations [27]. The majority of spermine and spermidine in the intestinal lumen is absorbed in their original forms because there is no apparent enzymatic activity present to catalyze their degradation [28]. Polyamines absorbed by the intestinal lumen are distributed to almost all organs and tissues in the body [29] as demonstrated by the increased blood polyamine levels in animals and humans produced in response to continuous enhanced polyamine intake for six and two months, respectively [30, 31]. However, short-term increased polyamine intake failed to produce such increases [30–32], possibly because of the homeostasis that inhibits acute changes in intracellular polyamine concentration. On the other hand, reductions in blood polyamine concentration were not achieved only by restricting oral polyamine intake. As such, at least two sources of intestinal polyamines are postulated: foods and intestinal microbiota. Decrease in blood polyamine levels can be successfully achieved by eliminating intestinal microbiota in addition to restricting food polyamines [33]. Taken together, these results indicate that polyamines are not only produced by cancer tissues but are also supplied from the intestinal lumen and together appear to influence polyamine levels in the body of cancer patients.
3. Polyamines in the body
In vitro experiments showed that cultured cells take up polyamines from their surroundings [34, 35]. In blood circulation, the majority of polyamines are contained in blood cells, especially in red and white blood cells, and therefore increases in blood polyamine concentration indicate concurrent increases in polyamine levels in blood cells [36]. Similarly, intracellular polyamine concentrations in cells of otherwise normal tissues and organs in cancer patients can be increased [37]. One examination showed that spermidine and spermine levels are increased in the normal colon mucosa of cancer patients compared to the normal colon mucosa from patients without cancer [37], although another study was unable to detect these differences [38]. Given that polyamine concentrations are increased in the blood cells of cancer patients and numerous blood cells with increased polyamine concentrations exist in normal tissues, the polyamine concentration in normal tissues of cancer patients with increased blood polyamine levels might also be increased. In addition, orally administered radiolabeled polyamines have been shown to be immediately distributed to almost all organs and tissues [29, 39, 40].
Polyamine concentrations in the blood vary considerably among healthy individuals such that concentrations are not necessarily higher in cancer patients than in otherwise normal subjects [41, 42] and this wide variation precludes the use of polyamine levels as a tumor marker as well as making detection of differences in polyamine concentrations in normal tissues of cancer patients and normal subjects difficult. The kinesis of polyamines may allow distant tissues and organs to influence polyamine levels of all cells in an organism.
4. Polyamines and cancer spread
Patients with increased polyamine levels either in the blood or urine are reported to have more advanced disease and worse prognosis compared to those with low levels, regardless of the type of malignancy [4–9]. Because polyamines are essential for cell growth, the increased capability of polyamine synthesis could reflect enhanced tumor proliferation. Therefore, inhibition of polyamine synthesis and availability by cancer cells could retard cancer cell growth. The efficacy of polyamine depletion is prominent in animal experiments. Inhibition of polyamine synthesis by DL-α-difluoromethylornithine (DFMO), an inhibitor of ODC that catalyzes the first rate-limiting step in polyamine biosynthesis, with or without methylglyoxal-bis-guanylhydrazone (MGBG), an inhibitor of S-Adenosylmethionine (SAM) that is required for polyamine synthesis, successfully suppressed tumor growth and prolonged survival of tumor-bearing animals [43–46]. Although the efficacy of polyamine restriction is not as apparent in humans as in animals [47, 48], inhibition of polyamine synthesis by DFMO successfully suppressed the progression of neoplastic disease [49–52].
However, a major factor that directly influences the prognosis of patients with malignant disease is the capability of cancer cells to invade surrounding tissues and organs and evade immune cell defenses to metastasize to distant organs. In animal experiments, inhibition of polyamine synthesis by DFMO and/or MGBG not only reduced tumor growth but also decreased the amount of metastasis, resulting in prolonged survival of tumor bearing animals [43, 44, 46, 53–55]. Therefore, the effect of polyamines on the metastatic potential of cancer cells, the host's anti-tumor immunity, and the corresponding mechanisms involved should be taken into consideration.
5. Mechanism of metastasis and involvement of polyamines (Figure 2)
There are several steps that occur during metastasis: separation of cancer cells from the tumor cluster (5-a); transmigration of cells from the original cluster to the circulation (5-b); and rooting and colonization in new organs and tissues (5-c) [56, 57]. In addition, metastasis is completed only when cancer cells can successfully escape from the anti-tumor immune function of the host during this process (5-d). In this section, the mechanism of cancer metastasis and the involvement of polyamines are discussed.
6. Sources of polyamines other than cancer cells
Food is an important source of polyamines. Polyamines in the intestinal lumen are absorbed quickly and distributed to all organs and tissues [29, 39, 40]. Moreover, continuous intake of polyamine-rich food gradually increases blood polyamine levels [30, 31]. Therefore, the restricted intake of food polyamine and inhibition of polyamine synthesis by microbiota in the intestine with or without inhibitor-induced inhibition of polyamine synthesis is reported to have favorable effects on cancer therapy [33, 113–115].
Trauma, such as surgery, is itself considered to increase the risk of cancer spread through various mechanisms [116–118]. Blood concentration and urinary excretion of polyamines are known to increase after surgery, although the origin of this increase is not well established [97, 119]. Our previous study showed that increases in blood polyamine levels are inversely associated with anti-tumor LAK cytotoxicities in patients who have undergone surgery [42]. In addition to mechanisms previously postulated for post-traumatic cancer spread, post-operative increases in polyamines may be another factor that accelerates tumor growth.
Conclusion
As polyamines are essential for cell growth, one of the mechanisms by which polyamines accelerate tumor growth is through the increased availability of this indispensable growth factor. In addition, polyamines seem to accelerate tumor invasion and metastasis not only by suppressing immune system activity against established (already existing) tumors but also by enhancing the ability of invasive and metastatic capability of cancer cells. When considering the mechanism by which polyamines elicit their biological activities on immune and cancer cell functions, inhibition of polyamine uptake by cells seems to be an important target for polyamine-based cancer therapy particularly because inhibition of polyamine synthesis alone failed to produce a favorable effect on cancer treatments in several clinical trials. In addition to inhibiting polyamine synthesis and supply, inhibition of polyamine uptake via the polyamine transporter may have beneficial effects [120, 121].
List of abbreviations
APAO:

N1-acetylpolyamine oxidase
DFMO:

D, L-α-difluoromethylornithine
ECM:

extracellular matrix
HIF-1:

hypoxia inducible factor-1
LAK:

lymphokine activated killer
LFA-1:

lymphocyte function-associated antigen-1
MGBG:

methylglyoxal bis-(guanylhydrazone)
MMPs:

matrix metalloproteinases
ODC:

ornithine decarboxylase
PBMCs:

peripheral blood mononuclear cells
SAM:

S-Adenosylmethionine
SSAT:

spermidine/spermine N1-acetyltransferase
TNF:

tumor necrosis factor.
Authors' Affiliations
(1)
Department of Surgery and Cardiovascular Research Institute, Saitama Medical Center, Jichi Medical University, Saitama-city, Japan
Copyright
© Soda; licensee BioMed Central Ltd. 2011
This article is published under license to BioMed Central Ltd. This is an Open Access article distributed under the terms of the Creative Commons Attribution License (http://creativecommons.org/licenses/by/2.0), which permits unrestricted use, distribution, and reproduction in any medium, provided the original work is properly cited.