Skin-reducing mastectomy and immediate breast reconstruction in patients with macromastia
Journal of Experimental & Clinical Cancer Research
2015
34:120
Received: 8 May 2015
Accepted: 29 September 2015
Published: 14 October 2015
Abstract
Introduction
In women with macromastia, a type IV skin sparing mastectomy is often required to achieve an aesthetically pleasing reconstruction. The introduction of "skin-reducing mastectomy", which inserts a permanent prosthetic device into a large pouch made by the pectoralis major muscle and an inferior pedicle dermal flap, allows the surgeon to achieve a safe oncologic result plus a cosmetically satisfying reconstruction.
Objective
We report here our experience with the skin-reducing mastectomy with the aim of emphasizing the problems associated with the technique.
Materials and method
A study was conduced from April 2009 to November 2012, 74 patients with breast cancer were selected then received a skin-reducing mastectomy. The enrolled women satisfied the criteria of Nava. Statistical analysis was conduced to estimate the significance of the outcome results and complication rate.
Result
A total of 88 SRMs were performed and the outcomes were as follows: excellent in 34 patients, good in 21, and poor in 8. We recorded 25 % of adverse events and statistic helped us to identify patient related factors whose can increase the complications onset.
Conclusion
Skin-reducing mastectomy is an indispensable procedure to treat cancer in large and pendulous breasts.
The correct patient selection is mandatory to reduce the not negligible complication risk. Skin reducing mastectomy when is well conduced allow to obtain good results with patient satisfaction but, like other breast-conserving surgeries, in some case is not the ultimate solution, because it may require some revisions to maintain the optimum results.
To day it be consider relatively safe in selected patient and the gold standard in macormastia immediate reconstruction.
Keyword
Skin reducing mastectomyImmediate breast reconstructionADMSRMBreast implantSkin sparing mastectomy
Introduction
Loosing a breast to cancer has significant negative psychological and sexual consequences [1], and one aim of patient care is to ameliorate these problems. Therefore, the radical mastectomy has become less common and has been replaced by wide local excision (breast-conserving therapy) or mastectomy followed by reconstruction [2, 3].
Skin-sparing mastectomy (SSM) was first described in 1991 by Toth et al. [4] as an attempt to maximize skin preservation in order to provide a more cosmetically pleasing result after reconstruction. SSM is now considered an oncologically safe surgical procedure [5–9].
Carlson et al. [10] described 4 types of SSMs, which were based on the type of incision and the amount of excised skin. SSM types I to III are intended for small breasts with a small degree of ptosis, and are carried out using a periareolar approach. The type IV SSM is intended for heavy, pendulous breasts that require large reduction of the skin envelope plus reduction or mastopexy of the contralateral breast [11]. This surgical procedure has 2 main limitations: the first is the risk for ischemic necrosis of the two long and thin superior flaps that close down to the inframammary fold, which may lead to complications in healing of the inverted T-scar, such as superficial epidermolysis, wound dehiscence, and exposure of the implant. The second limitation is excessive upper pole fullness caused by a permanent implant in the lower pole of the reconstructed breast that lacks projection [11–13].
To increase the coverage of the lower-pole implant and reduce the risk of device infection due to wound dehiscence or skin necrosis, a technique was developed that used the skin of the lower breast to create an inferior dermal pedicle flap sutured to the inferior border of the pectoralis major muscle, thereby creating a musculodermal pouch for a definitive implant [14]. This procedure was described by Bostwick and was introduced primarily for cosmetic surgery and cancer prophylaxis [15]. Hammond subsequently expanded its use to breast cancer, although purely for a two-stage reconstruction that used an expander for the first stage and a definitive implant for the second stage [16]. In 2006, Nava et al. reviewed this relatively unknown technique naming it as "skin-reducing mastectomy" [11].
We report herein our experience performing the skin-reducing mastectomy at the Regina Elena National Cancer Institute in Rome, Italy, with the aim of emphasizing the problems associated with the technique.
Materials and methods
Patient selection
This was a retrospective study from April 2009 to November 2012 of 74 patients selected by our department; the local ethics committee approved this study.
Patient data, including age, body mass index (BMI, patients with BMI > 35 were excluded), smoking status, and comorbid conditions were recorded. Indications for surgery, including type of cancer, breast size, and grade of ptosis were also recorded. The patients were enrolled in this study based on the criteria of Nava [
11
], which included patients with pendulous breasts and an areola-to inframammary fold distance greater than 8 cm and suprasternal notch-to-nipple distance greater than 25 cm. Table
1
summarizes the characteristics of our patients.
Table 1
Patient description
Demographic characteristic

Average age (range)

52 years (26 – 67)

Average BMI (range)

27.6 (21 – 34)

Anatomical characteristic

Average breast width (range)

15.8 cm (12 – 17.6)

Average nipple to Inframammary fold distance (range)

11.7 cm (8 – 17.5)

Average nipple to sterna nock distance (range)

27.9 cm (25 – 36.8)
None of the study patients had serious comorbidities that contraindicated surgery or had previously undergone to breast surgery. Eight patients had diabetes (16.2 %) and 16 patients (21.6) were smokers. All patients who were referred to our department needing postoperative radiotherapy due to clinical positivity of axilla were not enrolled to receive a prosthetic implantation but were scheduled for autologous tissue reconstruction. All the study patients fulfilled the oncological indications for undergoing a skin-sparing mastectomy. Before surgery they consented to the procedure, the permission to be enrolled in the study, to take photos and them publication.
Preoperative planning
The midline was marked with the patient in an upright position. The breast meridian was bilaterally delineated and the future nipple-areola complex (NAC) was determined (19–23 cm from the sternal notch). A slightly modified Wise pattern was then drawn; 2 oblique lines measuring 7 cm were drawn to form an angle of 30° to 90°, according to the amount of excess skin. The other ends of the 2 oblique lines were then extended laterally and medially to join the inframammary fold, as in breast reduction or mastopexy. The area enclosed in the pattern below the NAC was designated the dermal flap (colored in green in Fig.
1
).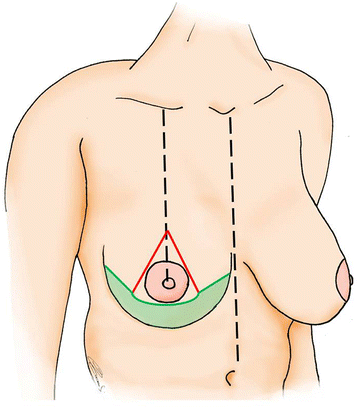 Surgical procedure
An appropriate areolotome was used to mark the NAC, which was then excised and stored as a free graft in physiologic saline solution. A frozen section was taken for histological examination to determine if there were malignant cells in the nipple ducts.
A full-thickness skin incision was made along the 2 oblique lateral lines. The epidermis was incised at the level of the inframammary fold, the area below the NAC and over the inframammary fold was de-epithelialized, and a 1-cm-thick dermal flap was created [Fig.
2a
]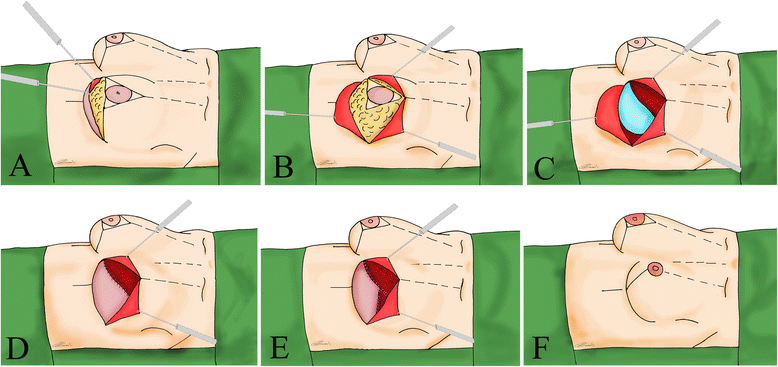 Mastectomy was then carried out, with dissection along the subcutaneous plane; Cooper's ligaments were divided, so that all breast tissue could be removed and the subdermal vascular network could be protected. When indicated, axillary surgery was performed through the same incision [Fig. 2b].
The lateral border of the pectoralis major was identified and elevated to create the pouch. The inferior insertions of the pectoralis major muscle were divided. The free edge of the pectoralis muscle was then sutured to the upper edge of the dermal flap, starting medially. When the suturing was almost completed, an appropriate silicone implant was inserted, followed by completion of the suturing Fig. 2c-d]. The medial aspect of the pouch was generally closed using the dermal flap; in patients where that closure was difficult to perform or traction deformed the pouch profile, a flap of serratus muscle was elevated [Fig. 2e] In selected cases, an acellular dermal matrix (ADM) was positioned to increase the width of the pouch. The skin envelope was then shaped according to the procedure for aesthetic mammoplasty. Care was taken when suturing the skin to reduce tension on the wound. The NAC was then grafted at the appropriate location [Fig. 2f].
Evaluation of postoperative results
All data were collected retrospectively from the operating theater registers and the surgeons' logs.
Photographs of the patients were collected before surgery and during follow-up postoperative visits at 2, 6, and 12 months, and used to evaluate the cosmetic results and to determine the outcomes. The photographs consisted of frontal side, lateral, and three-quarter side views.
The photographs were assessed for the following parameters and were graded by 3 external surgeons, and the mean scores were determined:
Projection of the lower pole related to the body (0 = insufficient - breast mount is not appreciable; 1 = moderate - breast lower pole is defined but without ptosis; 2 = good - lower pole is well defined and ptosis is appreciable; 3 = optimal - lower pole and IMF are well defined with an appropriate ptosis).

Grade of symmetry (0 = insufficient, 1 = acceptable - breasts present the "physiologic" asymmetry; 2 = optimal - breasts look quite similar)

Quality of scar and vitality of NAC (0 = insufficient - scars are hypertrophic, visible; second intention healing area are present and the NAC is lost; 1 = acceptable - NAC without projection with some dyschromic areas, scars are quite hypertrophic but hided from the breast; 2 = good - Nipple with light projection, areola well healed scars normotrophic; 3 = optimal - NAC maintains its original aspect, scars are less visible)

Visibility of prosthesis (0 = always; 1 = in some positions; 2 = never)
The results were estimated from the photographs and data overlapping using a computer graphic program (Anthology - DEKA me.la S.r.l., Calenzano-Florence. Italy) following our outcome scale and then classified as excellent, good, or poor, based on the total score of the parameters (poor = 0–3, good = 4–7, excellent = 8–10).
Patient satisfaction was determined using the modified questionnaire from the Michigan Breast Reconstruction Outcome Scale (Table
2
) [
2
,
17
].
Table 2
Parameter used to investigate patients satisfaction
| | |
| --- | --- |
| 1) | Knowing what I know today, I would definitely choose to have breast reconstruction. |
| 2) | Knowing what I know today, I would definitely choose to have the type of breast reconstruction I had. |
| 3) | Overall I Am satisfied with my reconstruction. |
| 4) | I would recommend the type of reconstructive procedure I had to a friend. |
| 5) | I felt that I received sufficient information about my reconstructive options to make an informed choice. |
| 6) | The size and shape of my breasts are the same. |
| 7) | My reconstructed breast feel soft to the touch. |
Statistical analysis
Complications incidence was analysed to find factors related to their onset. Aspects surgery relate such us axillary clearance or ADM implantation have been evaluated. Patient factors like smoking status, diabetes, age and BMI were also studied. The impact of oncologic therapies was studied as well. The Fisher exact test was used to compare the frequency of categorical variables. t-test was used to determine statistical significance for categorical data.
The correlation between patient satisfaction score and implant volume was analysed as well. The Pearson correlation test were used to investigate that connection.
Analysis was carried out with SPSS version 22 (IBM Corporation, USA).
Results
A total of 88 skin-reducing mastectomies were performed (14 patients underwent bilateral procedures). The minimum duration of follow-up was 12 months (mean, 18 months), and no local recurrences were noted but among them 9 have developed systemic disease.
Interpolation of the clinical data with our outcome scale led to the following results: excellent for 39 patients (52.7 %), good for 27 (36.5 %), and poor for 8 (10.8 %) [Figs.
3
,
4
,
5
].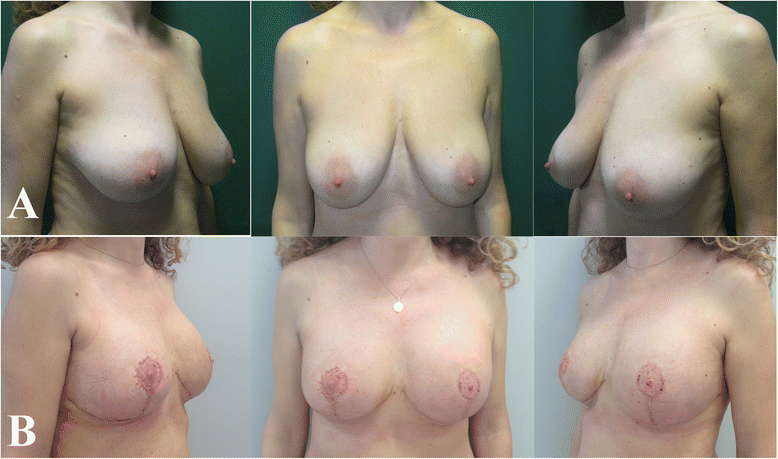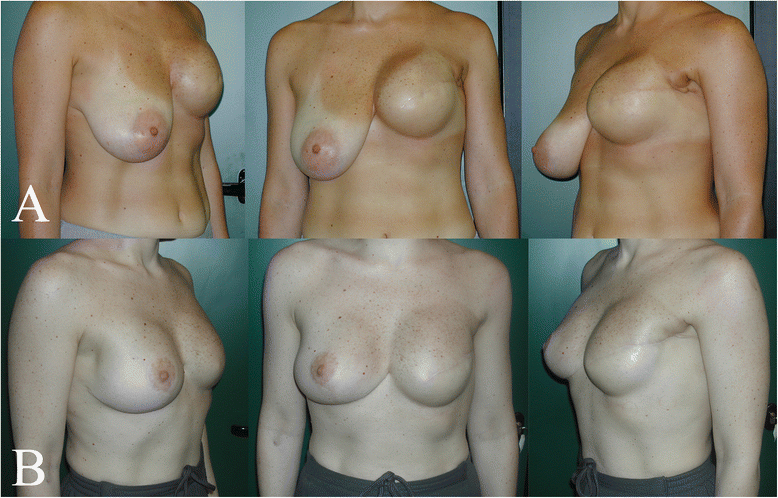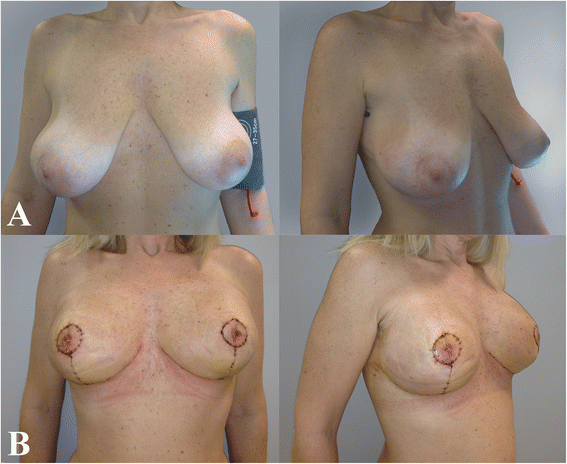 Patient satisfaction was as follows: 32 patients (43.3 %) were highly satisfied (score, 7–16), 34 (45.9 %) were moderately satisfied (score, 17–25), 8 (10.8 %) were not satisfied (score, 26–35).
Conclusions
Nava et al. reported that the skin-reducing mastectomy allows the surgeon to perform immediate breast reconstruction and achieve a satisfactory outcome. According to our outcome scores, we achieved excellent results for the majority of our patients; however, as for other breast reconstructions that use prosthetics, surgical revision may be needed to maintain the results quality.
There were some discordant results for patient satisfaction. Although most of the patients with optimal clinical results had high scores on the questionnaire from the Michigan Breast Reconstruction Outcome Scale, indicating a high degree of satisfaction; some patients, despite good clinical results, reported low personal satisfaction. This finding may reflect the extremely high expectations of some patients who undergo breast reconstruction. Some of these patients may not understand that a breast reconstruction is not a cosmetic mammoplasty. We observed this finding more commonly in patients who underwent to immediate breast reconstruction instead of a multistage procedure.
The long-term outcomes of skin-reducing mastectomy have not been clarified. The long-term followup of some of our study patients has revealed progressive distortion of the breast profile associated with weight changes of the patient and/or capsular contracture. We performed implant substitution for 19 breasts (21.5 %), 15 for capsular contracture, and 4 patients requested a bigger implant. Capsular contracture was observed more frequently in patients with thin dermal flaps or with very large implants. It is well known that the principal cause of capsular contracture is inadequate coverage of the implant.
Another important finding was the visibility of the upper pole of the implant after complete tissue healing. This has been seen with other SSM procedures. The upper edge of the implant is often visible because of skin adhesions to the muscle. To improve coverage of the upper pole of the implant, fat grafting was performed for 26 patients approximately 12 months after SRM. The great part of this patient received a full high prosthesis. In creating the prosthetic pocket, we occasionally elevated a flap of serratus muscle. However, this procedure is only used in cases of excessive lateral skin flap skeletonization or if the insertions of the pectoralis muscle are too high.
The use of ADM patches in skin-reducing mastectomies remains controversial, because the risk of, local complications should be higher than for traditional surgical procedures.
Is it preferable to place a breast implant laterally into the subcutaneous plane than expose the patient to increased risk of complications? There are many disagreements regarding this question. We think that use of the ADM patch should be confined to experienced surgeons, who can provide the expertise to allow this scaffold to be used safely. Therefore, we prefer to implant a biologic patch than perform a simple mastectomy. To prevent exposition of the ADM patch, we have found that it is important to place the biologic patch at a distance from surgical incisions. Therefore, if the dermal flap must to be removed because of oncologic indications, we always preserve at least 15 to 20 mm of dermal flap in order to fix the biologic patch above the incision of the inframammary fold. The placement of an ADM between the pectoralis muscle and dermal flap enables increased projection of the new breast as well as a wide pouch.
In cases of jeopardize skin we suggest performing an immediate surgical revision in order to preserve the implants and prevent their exposition and contamination.
We believe that skin-reducing mastectomy with immediate placement of a permanent prosthesis is an indispensable procedure for the treatment of women with breast cancer in a large and pendulous breast. However, determining if the patient is suitable for the procedure is extremely important, because the risks of skin necrosis, implant infection, and subsequent removal are not negligible.
Skin-reducing mastectomies performed by skilled surgeons achieve good results and patient satisfaction; however, as for other breast-conserving surgeries, for some patients it may not be the ultimate solution, and may require surgical revision to obtain optimal results.
Declarations
Open AccessThis article is distributed under the terms of the Creative Commons Attribution 4.0 International License (http://creativecommons.org/licenses/by/4.0/), which permits unrestricted use, distribution, and reproduction in any medium, provided you give appropriate credit to the original author(s) and the source, provide a link to the Creative Commons license, and indicate if changes were made. The Creative Commons Public Domain Dedication waiver (http://creativecommons.org/publicdomain/zero/1.0/) applies to the data made available in this article, unless otherwise stated.
Authors' Affiliations
(1)
Department of Plastic and Reconstructive Surgery, IFO - "Regina Elena" National Cancer Institute, Rome, Italy
(2)
Department of Life, Health and Environmental Sciences, Plastic Reconstructive and Aesthetic Surgery Section, L'Aquila University, L'Aquila, Italy