Erratum to: RERG suppresses cell proliferation, migration and angiogenesis through ERK/NF-κB signaling pathway in nasopharyngeal carcinoma
Journal of Experimental & Clinical Cancer Research
2017
36:94
Received: 7 July 2017
Accepted: 7 July 2017
Published: 13 July 2017
The original article was published in Journal of Experimental & Clinical Cancer Research 2017 36:88
Upon publication of the original article [
1
], it was noticed that Fig.
5
contained an error. The Fig.
5e
(middle) for CD34 area fraction (%) data was erroneously included during the drafting of the manuscript. This has now been acknowledged and corrected in this erratum. The correct Fig.
5
is shown below.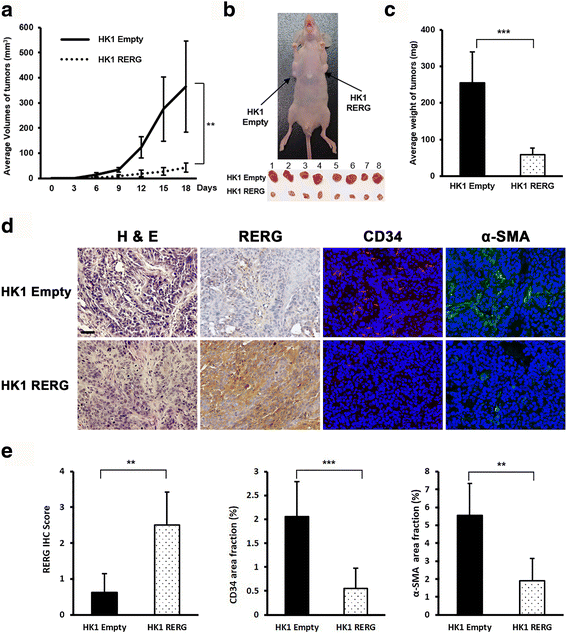 Open AccessThis article is distributed under the terms of the Creative Commons Attribution 4.0 International License (http://creativecommons.org/licenses/by/4.0/), which permits unrestricted use, distribution, and reproduction in any medium, provided you give appropriate credit to the original author(s) and the source, provide a link to the Creative Commons license, and indicate if changes were made. The Creative Commons Public Domain Dedication waiver (http://creativecommons.org/publicdomain/zero/1.0/) applies to the data made available in this article, unless otherwise stated.
(1)
Department of Environmental and Molecular Medicine, Mie University Graduate School of Medicine, 2-174, Edobashi, Tsu Mie, 514-8507, Japan
(2)
Department of Otorhinolaryngology - Head and Neck Surgery, Mie University Graduate School of Medicine, 2-174, Edobashi, Tsu Mie, 514-8507, Japan
(3)
Department of Otolaryngology Head and Neck Surgery, First Affiliated Hospital of Guangxi Medical University, Nanning, Guangxi, China
(4)
Graduate School of Health Science, Suzuka University of Medical Science, Suzuka, Mie, Japan
(5)
Present address: Center for Oral Biology, University of Rochester Medical Center, Rochester, NY, USA
(6)
Present address: Department of Research, Affiliated Tumor Hospital of Guangxi Medical University, Nanning, Guangxi, China
Zhao W, Ma N, Wang S, Mo Y, Zhang Z, Huang G, Midorikawa K, Hiraku Y, Oikawa S, Murata M, Takeuchi K. RERG suppresses cell proliferation, migration and angiogenesis through ERK/NF-κB signaling pathway in nasopharyngeal carcinoma. J Exp Clin Cancer Res. 2017;36(1):88.View ArticlePubMedPubMed CentralGoogle Scholar