Role of the nervous system in cancer metastasis
Journal of Experimental & Clinical Cancer Research
2018
37:5
Received: 29 October 2017
Accepted: 30 December 2017
Published: 15 January 2018
Abstract
Cancer remains as one of the leading cause of death worldwide. The development of cancer involves an intricate process, wherein many identified and unidentified factors play a role. Although most studies have focused on the genetic abnormalities which initiate and promote cancer, there is overwhelming evidence that tumors interact within their environment by direct cell-to-cell contact and with signaling molecules, suggesting that cancer cells can influence their microenvironment and bidirectionally communicate with other systems. However, only in recent years the role of the nervous system has been recognized as a major contributor to cancer development and metastasis. The nervous system governs functional activities of many organs, and, as tumors are not independent organs within an organism, this system is integrally involved in tumor growth and progression.
Keywords
NeurotransmittersNeuropeptidesNeuro-cancer interactionMetastasisCancer
Background
Cancer is the leading cause of death worldwide due to the aging population and unhealthy lifestyle [1]. Although it is highly treatable when localized, metastatic or recurrent cancer has a poor prognosis. Metastasis involves a complex series of steps including proliferation, angiogenesis, embolization, dissemination, evasion of immune system surveillance and surviving in ectopic organs [2–5]. However, despite significant advances in understanding metastasis and its mechanisms, the prognosis remains poor. In the past decades, research has focused on identifying and characterising genes and gene products that manipulate the metastatic processes [6–9]. More recently, the impact of the tumor microenvironment on tumor cell invasion and metastasis has attracted extensive attention (see ref. [10] for detailed review) [2, 10–13]. Multiple cellular and extracellular components within the tumor microenvironment, such as immune cells, endothelial cells, mesenchymal stromal cells (fibroblasts and myofibroblasts), and their secretory products, exert active functions to modulate gene expression patterns of tumor cells and to alter biological behavior of tumor cells [14–16]. Invariable crosstalk amongst these components within the tumor microenvironment triggers pro-survival, invasion, and metastatic pathways of tumor cells [17–20]. Several studies, both clinical and in vitro, reinforce the concept of the nervous system involvement in cancer metastasis [5, 21–26]. Nerve fibers present in and around the tumor could release neurotransmitters and neuropeptides directly acting on receptors expressed by cancer cells. The findings, primarily in cancer cell lines and animal models, indicate that there is a bi-directional correlation between the neural factors released and cancer progression and metastasis. Understanding the complex neurotransmitter-cancer interaction is important for the development of new avenues for targeted therapeutic intervention. This review presents an overview of the role of the nervous system in cancer metastasis.
The role of the nervous system in metastatic cascade
Studies have demonstrated that the nervous system facilitates development of tumor metastasis by modulating metastatic cascades through the release of neural-related factors from nerve endings such as neurotrophins, neurotransmitters and neuropeptides [27–29]. The process of metastasis formation involves tumor cells breaking away from the primary tumor and overcoming the obstacles of primary tissue inhibition (initiation and clonal expansion), anoikis inhibition (evasion from apoptosis), breakdown of base membranes (epithelial-mesenchymal transition (EMT) and invasion), extravasation and colonization, angiogenesis, evasion of immune response and establishment of tumor microenvironment.
Role of perineural invasion in cancer metastasis
Perineural invasion (PNI) also known as neurotropic carcinomatous spread is a process mainly categorized by neoplastic invasion of the nerves. PNI is defined as the presence of cancer cells in the perineurium; it is believed to be a common route for cancer metastasis can cause cancer-related pain [61–68]. The presence of PNI is mostly associated with poor prognosis and high recurrence in colorectal [69], gastric [64], oral tongue squamous cell carcinoma (OTSCC) [62], and pancreatic [61] cancers. In stage II and III colorectal cancer patients, the presence of PNI is associated with tumor grade, metastasis to lymph nodes and poor patient survival [63]. However, in invasive breast carcinoma the presence of PNI has been demonstrated to have no prognostic value [67, 70].
PNI is influenced by the interaction between the nerve microenvironment and neurotrophic molecules expressed by cancer cells such as nerve growth factor (NGF), BDNF, glial cell line-derived neurotrophic factor (GDNF) and their receptors [61, 68, 71]. A number of studies demonstrated correlation between the presence of PNI with high expression of NGF and its receptor tropomyosin related kinase A (TrkA) [61, 72, 73]. It is speculated that neurotrophins released by neural tissue act as chemotactic factors, and in cancer cells where Trks are overexpressed, they provide mechanism to invade the perineural space. High expression of NGF or TrkA and P75NTR receptors is associated with lymph node metastasis in a mouse model of breast cancer [74]. In OTSCC patients [73], the presence of PNI and NGF is associated with larger tumor size and lymph node metastasis, suggesting that its presence can be a valuable marker to predict the disease progression and prognosis [65]. Overexpression of TrkA associates with enhanced growth, invasion and migration of breast cancer cells in vitro as well as enhanced metastasis in xenografted immunodeficient mice via the PI3K-AKT and ERK/P38 MAP kinases [75]. Conversely, immuno-histochemical evaluation of tissues from patients with extrahepatic cholangiocarcinoma shows that intra-tumoral NGF expression does not correlate with PNI, absence of disease recurrence and overall patient survival [76]. GDNF has been demonstrated to induce cancer cells migration. In human pancreatic adenocarcinoma tissues and MiaPaCa-2 cell lines, binding of GDNF to its receptor GFRα1 stimulates PNI via GDNF-(Ret proto-oncogene) RET signaling pathway [71]. Activation of GDNF-GFRα1-RET signaling triggers the MAPK signaling pathway leading to pancreatic cancer cell migration toward nerves in both in vitro and animal models of PNI [77]. Cancer-nerve interaction studied in in vitro co-cultures of DRG and MiaPaCa-2 pancreatic cancer cells demonstrated that GFRα1 facilitates migration of cancer cells along neurites toward the center of the DRG [71]. Furthermore, decreased release of soluble GFRα1 from DRG inhibits migration of cancer cells towards nerves in vivo providing further evidence that GFRα1 expression is important in facilitating PNI [71]. In a metastatic breast cancer model, in vivo inhibition of Ret suppresses tumour outgrowth and metastatic potential [78].
BDNF facilitates cancer metastasis via binding to its receptors, TrkB/ TrkC and/or p75NTR as demonstrated in breast [79], colorectal [80, 81], clear cell renal cell carcinoma [82] and non-small cell lung cancer (NSCLC) [83]. The expression of TrkB associates with nodal metastasis and peritoneal metastasis; whereas, TrkC expression associates with liver metastasis in colorectal cancer patients [81]. BDNF-TrkB signaling pathway mediates metastatic effect through modulation of cancer-associated fibroblasts (CAFs) as demonstrated in mouse model co-injected with OSC19-Luc transfected cell line and CAFs [84]. In melanoma, neurotrophin (NT)-3, NT-4, and NGF induce cell migration, with a stronger effect on metastatic cell lines via binding to p75NTR coreceptor sortilin [85]. In breast cancer, NT-3 enhances breast cancer metastasis in the brain via promoting the mesenchymal–epithelial transition of breast cancer cells to a more epithelial-like phenotype and via increasing the ability of these cells to proliferate in the brain [86].
Collectively, these studies demonstrate that neurotrophins and their receptors play crucial role in PNI. These studies also suggest that the presence of PNI could be an effective predictor of metastatic potential and patient survival.
Tumor innervation influencing cancer metastasis
Tumor innervation
Cancer-related neurogenesis (tumor innervation) is attributed to the ability of cancer cells to attract normal nerve fibers via the secretion of signalling molecules and neurotrophic factor. However, recent study has demonstrated that cancer stem cells are capable of directly initiating tumor neurogenesis [87]. Cancer stem cells derived from human gastric and colorectal cancer patients generate neurons including sympathetic and parasympathetic neurons which promote tumor progression [87]. Knocking down their neural cell generating abilities inhibit tumor growth in human xenograft mouse model. Neurogenesis and its putative regulatory mechanisms have been reported in prostate [88], gastric [89], colorectal [90] and breast [91] cancers. There is a correlation between the expression of a pan-neuronal marker protein gene product 9.5 with clinicopathological characteristics of breast cancer [91]. In fact, neurogenesis is associated with aggressive features including tumor grade, poor survival as well as angiogenesis, especially in estrogen receptor-negative and node-negative breast cancer subtypes [91, 92]. In prostate cancer, infiltration of the tumor microenvironment by nerve fibers associates with poor clinical outcomes [93] and is driven by the expression of granulocyte colony-stimulating factor (G-CSF) [94] and proNGF [95]. Similarly, in orthotopic PC3-luc xenografts model of prostate cancer, neurogenesis and axonogenesis correlate with aggressive features including metastatic spread which is attributed to the neo-cholinergic parasympathetic nerve fiber [94]. These findings indicate that neurogenesis, like angiogenesis, is also a trait of cancer invasion and can alter tumor behaviour.
Tumor denervation
On the other hand, disruption of tissue innervation might cause accelerated tumor growth and metastasis [56, 96–101]. For instance, in humans, decreased vagal nerve activity correlates with advanced stages of cancer [96–98]. Similarly, modulation of vagal nerve activity enhances metastasis of breast cancer in mice [99, 100]. In addition, capsaicin-induced inactivation of sensory neurons enhances metastasis of breast cancer cells [56, 101]. On contrary, pharmacological or surgical denervation supresses the tumor progression as noted in three independent mice models of gastric cancer [89]. Thus, these findings suggest that there might be differences in the effects of local tumor innervation and extrinsic innervation on cancer progression.
Neurotransmitters influencing cancer metastasis
Tumor innervation influences metastasis as the ingrown nerve endings release neurotransmitters (such as norepinephrine, dopamine and substance P), which enhance metastatic spread [
102
]. To date, several neurotransmitters and neuropeptides involved in tumor metastasis have been identified (Table
1
and Fig.
1
). In fact, several cancer cells express receptors for a number of neuropeptides and neurotransmitters, like norepinephrine, epinephrine, dopamine, GABA, acetylcholine, SP and NPY which have stimulatory effects on migration of cancer cells [
103
–
112
].
Table 1
Neurotransmitters influencing tumor metastasis
Neurotransmitters

Receptor

Type of cancer

Model

Mechanism/pathway

Ref.

NE

β2-AR

Pancreatic cancer

CFPAC1, MiaPaCa2 Panc1, and IMIM-PC2 cells

NE treatment reduces migratory activity of pancreatic cancer cells. NE mediates inhibitory effect via imbalanced activation of PKC/PLC signaling pathway → to activation of anti-migratory cAMP/PKA signalling.

[155]

Prostate cancer

Subcutaneous injection of PC-3 cells in BALB/c nude mice

↑ NE leads to lumbar lymph node metastasis in an animal model.

DA

DR1 & DR5

HCC

Tumor and non-tumor adjacent tissues from patients; LM3, Huh7 and SNU449 cells;

subcutaneous injection of LM3 cells in BALB/c nude mice

DR5 is upregulated in tumor tissue and DR1 is upregulated in non-tumor human tissues.

Dopamine ↑ cell proliferation in SNU449 cells.

Administration of DR antagonist (thioridazine) inhibits cell proliferation in vitro and in and cell migration through EMT → ↓ tumor metastasis

[120]

GABA

GABAA

HCC

Human primary and adjacent non-tumor tissues, and Orthotopic inoculation of SMMC-7721 cells into the liver of BALB/c nude mice

GABAAreceptor subunit ε1 expression is lower in human HCC tissues than in non-tumor liver tissues.

GABA inhibits invasion and migration of human liver cancer cells in vitro.

In mice, inoculation of SMMC-7721 cells pretreated with GABA ↓ tumor metastasis.

[128]

GABAB

PLC/PRF/5 and Huh cells

Administration of GABAB agonist (baclofen) ↓ cell migration associated with ↓ in intracellular cAMP levels.

[132]

Breast cancer

Human tissues, 4 T1 and MCF-7 cells

Administration of GABAB agonist (baclofen) promotes invasion and migration of breast cancer cells in vitro and metastasis in vivo via ERK1/2 and MMP-2signaling pathway.

[107]

Prostate cancer

Human prostate and lymph node tissues, C4–2 cells

↑ Expression of GABA → cell invasion in vitro and lymph node metastasis in patients mediated by activation of MMPs signalling.

[158]

HCC

Human primary and adjacent non-tumor tissues

The mRNA levels of GABAB R1.2 and GABAB R1.4 are higher in HCC tissues than in non-tumor liver tissues

[128]

ACh

AR

HCC

SNU-449 cells

ACh activates AR receptors → ↑ invasion and migration of SNU-449 cells via activation of AKT and STAT3 signaling pathways.

[133]

α7-nAChR

Pancreatic cancer

CD18/HPAF, Capan1, FG/Colo357 cells in vitro and orthotopically implanted CD18/HPAF cells in immunodeficient mice

Nicotine treatment stimulates the expression of α7-nAChR and MUC4 in vitro. In the in vivo model, exposure to low and high cigarette smoking increases the tumor metastasis and MUC4 expression compared to sham controls.

Nicotine induces tumor metastasis by upregulating MUC4 via α7-nAChR-mediated JAK2/STAT3 signaling in collaboration with Ras/Raf/MEK/ERK1/2 signalling pathway.

[135]

Lung cancer

Line 1 cells in vitro, and subcutaneous injection of Line 1 cells in BALB/c mice

Intraperitoneal injection of nicotine ↑ tumor growth and metastasis through change in gene expression via nAChR signalling pathway.

[159]

nAChR β2

Lung cancer

B16 cells intravenous injection in C57BL/6 mice

↑ Nicotine exposure → activation of nAChR β2 on NK cells mediates metastasis

[160]

α9-nAChR

Breast cancer

MDA-MB-231 and MCF-7 cells

Nicotine treatment enhances the migratory abilities of both cells by activating α9-nAChR through elevated expression of EMT markers

[134]

mAChR

Colon cancer

Hh508 and SNU-C4 cells

Administration of muscarinic inhibitor (atropine) → ↓ cell invasion and migration.

ACh binding to M3R mediates cell migration via the activation of post-ERBB1, ERK and PI3K-dependent RhoA pathway.

NSCLC

Human tissues, micA549, PC9, SPC-A1, GLC82, L78 and HLF cells

M3R expression correlates with clinical stage and poor survival in patients.

M3R stimulation by ACh enhances in vitro cell invasion and migration via PI3K/AKt pathway.

Prostate cancer

Human tissues,

Hi-Myc transgenic mice-bearing PC-3

Presences of cholinergic nerve fibers associate with poor clinical outcome in human patients.

Pharmacological blockade or genetic disruption of the M1R inhibit metastasis leading to improved survival of the mice

[93]

SP

NK-1R

Pancreatic cancer

MiaPaCa-2, BxPC-3, CFPAC-1, HAPC, Panc-1, and SW1990 cells

Binding of SP to NK-1R promotes cell invasion and migratory potential which is mediated by expression of MMP-2. SP also increases cell migration and neurite outgrowth toward DRG demonstrating important role in metastasis and PNI.

NPY

Ewing sarcoma

Human serum,

SCID/beige mice bearing SK-ES1 cells

Enhanced level of systemic NPY associate with metastatic tumors.

In the xenograft model, NPY expression associate with bone metastases.

Y5

Breast cancer

4 T1 cell line

NPY mediates metastatic effect via the activation of Y5 receptor.

[148]

Neurotensin

NTSR1

Breast cancer

Human tissues

The expression of NTSR1 associates with lymph node metastasis.

[151]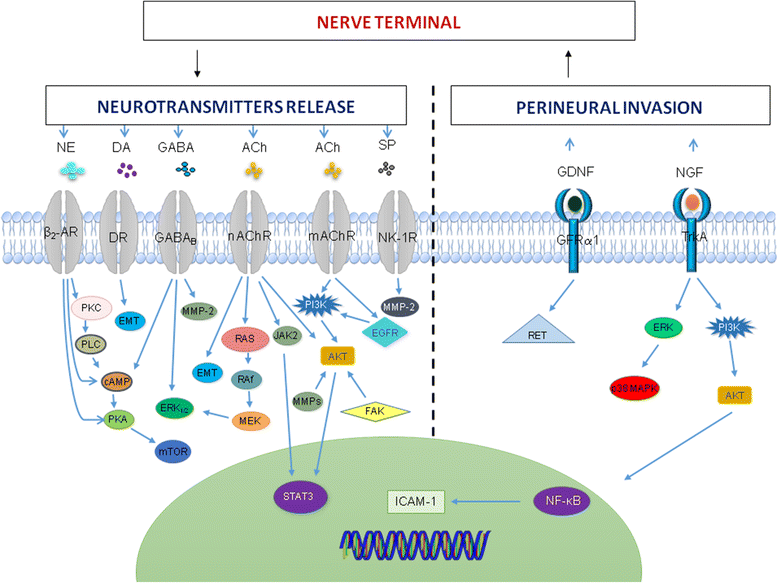 Concluding remarks and future directions
Metastasis continues to be the main cause of cancer-related death. Although genetic compartments that influence metastasis have been identified, there are still needs to conduct comprehensive evaluation of the factors that contribute to cancer metastasis. This review demonstrates that the nervous system influences cancer metastasis through the release of neurotransmitters and neuropeptides leading to metastasis. However, sensory nerve fibres have been given less attention. Sensory stimuli activate pain transmission pathways which result in acute or chronic pain depending on the intensity and the nature of the stimulus [152, 153]. Cancer-related pain is linked to accelerating cancer progression and metastasis. Sensory nerves can innervate primary tumors and metastases, thus contributing to tumor-associated pain as demonstrated in pancreatic [61] and prostate cancer [154]. Therefore, a possible involvement of sensory fibers in tumor progression and metastasis, although not well demonstrated at this stage, cannot be excluded.
In conclusion, cancer cells can transduce neurotransmitter-mediated intracellular signaling pathways which lead to their activation, growth and metastasis. The findings reported here are primarily done in cancer cell lines and animal models. Therefore, better understanding the interaction between these signaling molecules and tumor cells in human cancers would enhance our knowledge on pathways promoting cancer metastasis.
Declarations
Acknowledgements
NK was supported by an Australian Postgraduate Research Award, LS and KN was supported by the College of Heath and Biomedicine Victoria University, Australia and VA was supported by the Centre for Chronic Disease, Victoria University, Australia.
Authors' contributions
NK wrote the manuscript. LS, VA and KN revised and corrected the manuscript. All authors read and approved the final manuscript.
Competing interests
The authors confirm that this article content has not competing interests.
Publisher's Note
Springer Nature remains neutral with regard to jurisdictional claims in published maps and institutional affiliations.
Open Access This article is distributed under the terms of the Creative Commons Attribution 4.0 International License (http://creativecommons.org/licenses/by/4.0/), which permits unrestricted use, distribution, and reproduction in any medium, provided you give appropriate credit to the original author(s) and the source, provide a link to the Creative Commons license, and indicate if changes were made. The Creative Commons Public Domain Dedication waiver (http://creativecommons.org/publicdomain/zero/1.0/) applies to the data made available in this article, unless otherwise stated.
Authors' Affiliations
(1)
Centre for Chronic Disease, College of Health and Biomedicine, Victoria University, Melbourne, Australia
(2)
Department of Medicine, Western Health, The University of Melbourne, Regenerative Medicine and Stem Cells Program, AIMSS, Melbourne, Australia