Correction to: J Exp Clin Cancer Res (2020) 39:219
https://doi.org/10.1186/s13046-020-01728-2
Following the publication of the original article [1], it was noted that the representative images of Rad51 immunofluorescence staining of H82 cell line in the original Figure 5A of this article were presented incorrectly. The errors occurred because the representative images of H526 were not appropriately labeled for H82 by error during the figure preparation. The updated Figure 5A was generated and is shown below based on the original raw data. The authors declare that these corrections do not change the results or conclusions of this paper. The authors apologize for this error.
The original article has been corrected.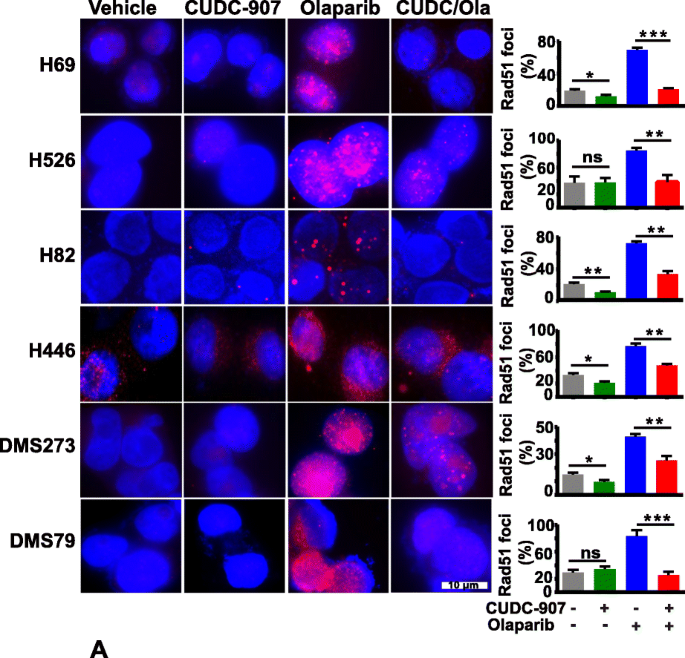 Reference
Ma L, et al. The dual HDAC-PI3K inhibitor CUDC-907 displays single-agent activity and synergizes with PARP inhibitor olaparib in small cell lung cancer. J Exp Clin Cancer Res. 2020;39:219.
Rights and permissions
Open Access This article is licensed under a Creative Commons Attribution 4.0 International License, which permits use, sharing, adaptation, distribution and reproduction in any medium or format, as long as you give appropriate credit to the original author(s) and the source, provide a link to the Creative Commons licence, and indicate if changes were made. The images or other third party material in this article are included in the article's Creative Commons licence, unless indicated otherwise in a credit line to the material. If material is not included in the article's Creative Commons licence and your intended use is not permitted by statutory regulation or exceeds the permitted use, you will need to obtain permission directly from the copyright holder. To view a copy of this licence, visit http://creativecommons.org/licenses/by/4.0/. The Creative Commons Public Domain Dedication waiver (http://creativecommons.org/publicdomain/zero/1.0/) applies to the data made available in this article, unless otherwise stated in a credit line to the data.
About this article
Cite this article
Ma, L., Bian, X. & Lin, W. Correction to: The dual HDAC-PI3K inhibitor CUDC-907 displays single-agent activity and synergizes with PARP inhibitor olaparib in small cell lung cancer. J Exp Clin Cancer Res 40, 7 (2021). https://doi.org/10.1186/s13046-020-01805-6
Published:

DOI: https://doi.org/10.1186/s13046-020-01805-6