The immunoregulatory mechanisms of carcinoma for its survival and development
Journal of Experimental & Clinical Cancer Research
2011
30:12
Received: 15 November 2010
Accepted: 21 January 2011
Published: 21 January 2011
Abstract
The immune system in patients detects and eliminates tumor cells, but tumors still progress persistently. The mechanisms by which tumor cells survive under the pressure of immune surveillance are not fully understood. This review is to present the evidence from clinical studies, showing a significant correlation of clinicopathological features of carcinoma with: (1) the loss of classical human leukocyte antigen class I, (2) the up-regulation of non-classical human leukocyte antigen class I, pro-apoptotic Fas ligand and receptor-binding cancer antigen expressed on SiSo cells I, and (3) the formation of immunosuppressive microenvironment by up-regulation of transforming growth factor-beta, Galectin-1, inhibitory ligand B7s, indoleamine 2,3-dioxygenase and arginase, as well as by recruitment of tumor-induced myeloid-derived suppressor cells and regulatory T cells. All of these factors may together protect carcinoma cells from the immune-cytotoxicity.
Keywords
Natural Killer CellTreg CellHuman Leukocyte Antigen ClassOral Squamous Cell CarcinomaOral Squamous Cell Carcinoma Cell
Introduction
Carcinoma is the most commonly type of cancer transformed from epithelial cells. It has been noted for a while that the immune-mediated spontaneous regression of cancer occurs in patients [1]. Recent clinical studies have demonstrated that anti-carcinoma immunity is activated along with rise and progression of carcinoma, indicated by: (1) the tumor-infiltrating immune cells (TICs), including T, B and natural killer (NK) cells, are activated [2–4], and the number of these lymphocytes and macrophages positively correlates with cancer-specific survival rate in patients with various carcinomas [5–7]; (2) both carcinoma antigen-specific cytotoxic T lymphocytes (CTLs) [8–10] and antibodies [11–13] have been identified in cancer patients; and (3) spontaneous regression has been noted in many patients with carcinoma cancers, in which the number of infiltrating immune cells, including activated CD3+ T cells, NK cells, antigen presenting cells (APCs), is significantly higher than that in non-regressing controls [14–16]. Therefore, the number of infiltrating immune cells becomes a reliable biomarker for predicting cancer relapse [17, 18]. All these studies suggest that the immune surveillance against carcinoma is active in patients, but how carcinoma cells still can survive and grow in some patients is not fully understood. In this review, we attempted to summarize the evidence of anti-immune functions of carcinoma from both clinical and experimental studies.
Avoidance of cytotoxic lymphocyte stimulation by attenuation of human leukocyte antigen class (HLA) molecules
Loss of HLA class I for avoidance of CD8+ CTL activation
Classical HLA class I constitutively expresses on epithelial cells and many carcinoma cell lines, such as non-small cell lung cancer (NSCLC) [
19
]. Given a central role of HLA class I in the restriction of CD8
+
CTL recognition of carcinoma-specific antigens, loss of HLA class I expression undoubtedly becomes a major escape pathway for the evasion of CD8
+
CTL surveillance, by which any HLA class I deficient carcinoma variants can develop to more aggressive or invasive phenotypes without stimulation of primary anti-carcinoma immunity, CD8
+
T cell response. Indeed, as listed in Table
1
, the total loss of HLA class I expression is more frequently noted with more aggressive or metastatic stages and poor differentiation phenotypes as compared to those with early stages and well to moderately differentiated lesions in patients.
Table 1
The association of deficient HLA class I expression in carcinoma with its progression in patients
Carcinoma type

Antibodies for immunohistochemical staining

Distribution of total HLA class I expression loss (% of negative staining*)

References

Bladder

W6/32 and GRH1

The altered of HLA class I including total losses associates with higher grade lesions and tumor recurrence

[20]

A-072

1) 16.6% in G1, 38.5% in G2, and 57.1% in G3;

2) 5-year survival: 74% with positive versus 36% with negative staining

[21]

Gastric

A-072

0% in T1 (mucosa & submucosa) versus100% in T2-3 (muscle and fat invasion)

[22]

Esophageal

W6/32

0%: normal and benign versus 40.5% carcinoma lesions

[23]

Bronchogenic

W6/32 and HC-10

1) 13% of Diploid versus 45% of Aneuploid;

2) 17.3% in G1-2 versus 69% in G3

[24]

NSCLC

W6/32

1) 26.8% in T1-2 versus 35% in T3;

2) 20.7% in G1-2 versus 39.3% in G3; 3) 24.1% in N0 versus 34.5% in N1-2

[25]

Breast

HC-10

0% in low-grade versus 67.6% in high-grade lesions

[26]

W6/32

24% in primary versus 64% in corresponding LN samples

[27]

Pancreatic

W6/32 and 246-E8.E7

1) 6% in primary versus 43% in metastastic tumors;

2) 0% in G1, 33% in G2 and 67% in G3

[28]

Prostate

A-072

1) 0% in Benign, 41% in primary and 66% in LN metastases;

2) 33% in low-grade versus 50% in high grade lesions

[29]
A higher level of HLA class I expression in bladder carcinoma is significantly associated with a longer survival rate in patients [21], and tumors with a normal level of HLA class I harbor more CD8+ T cells than those with altered HLA class I in renal cell carcinomas (RCC) [30] and cervical carcinoma [31, 32]. In addition, a decrease in HLA class I expression has been noted as early as in normal mucosa surrounding the tumor or in situ lesion, and is significantly associated with subsequent development to a new primary tumor lesion [33, 34]. These data indicate that the avoidance strategy may occur at early stages of carcinoma development, and suggest that by loss of HLA class I expression to avoid CD8+ CTL seems critical for the development of carcinoma in patients.
Heterogeneous expression of HLA class I in inactivation of NK cell cytotoxicity
Although loss of HLA class I may benefit to carcinoma resistance to CD8+ CTL as discussed above, it could increase the susceptibility to cytotoxicity of natural killer (NK) cells [35] because HLA class I is a ligand for inhibitory receptor family, killer cell immunoglobulin-like receptor (KIR) of NK cells [36], Thus, loss of HLA class I expression could favor the escape of antigen-dependent cytotoxicity of CD8+ CTL, but at the same time carcinoma cells may become a target of NK cell cytotoxicity. To date, it is not completely clear how carcinoma cells can survive under the selection of both CD8+ CTLs and NK cells simultaneously. It has been suggested that carcinoma cells find a balance between maintenance of HLA class I expression for inhibition of NK cell cytotoxicity and loss of its expression for the escape from CD8+ CTL responses. Indeed, the complete loss of HLA class I is barely seen in carcinomas, which may be explained by its need for inhibition of NK cell activity. The heterogeneous losses of HLA class I either positively or negatively correlate with carcinoma stages or grades in patients [24, 27, 28], reflecting exactly the situation of carcinoma cells; if carcinoma cancer faces more severe cytotoxicity from NK cells versus CD8+ CTL, certain levels of HLA class I render carcinomas resistance to NK cells; if tumor is under the pressure of CD8+ CTL more than NK cells, then partial loss of HLA class I becomes a key for survival, as indicated by Table 1.
In addition to heterogeneous expression of HLA class I, one has to knowledge that other strategies are seen to avoid NK cell cytotoxicity. A clinical study with oral squamous cell carcinomas shows that HLA class I expression is either weak or absent for not stimulation of CD8+ CTL, but there is still no a clear correlation of HLA class I expression loss with a relative proportion of NK cells, indicating that the local factors seem to down-regulate the final outcome of the cytotoxic immune response of NK cells [33]. Indeed, reduced expression of natural cytotoxicity receptor, NKG2D ligand UL16 binding protein 1 and Inter-Cellular Adhesion Molecule 1 has been seen on tumor cells [37, 38], which may specifically prevent NK cell activation.
Non-classical HLA-G in inhibition of both CD8+ CTLs and NK cells
HLA-G is a non-classical class I antigen, originally detected in trophoblastic cells [39], where it is proposed to suppress maternal immune response against the semi-allogeneic fetus. It binds to the inhibitory receptors Ig-like transcript (ILT) 2, ILT4 or KIR2DL4, resulting in suppression of cytotoxicity of both CD8+ CTL and NK cells [40, 41]. The protective role of HLA-G in carcinoma survival under immune surveillance is demonstrated in many studies with patients; in contrast to its null expression in normal epithelial cells and benign adenomas, a high percentage (30-90%) of carcinoma cells expresses HLA-G in a variety of cancerous lesions, and its levels have been found to be significantly associated with clinicopathological features and shorter survival time of patients [42–45]. All these data indicate that carcinoma-expressing HLA-G could be one of important mechanisms for inhibition of both CD8+CTL and NK cell mediated anti-carcinoma immunity.
Induction of TIC apoptosis by expression of pro-apoptotic ligands
Fas ligand (FasL)
FasL binding to death receptor Fas triggers apoptosis of Fas-expressing cells including TICs. Two patterns of FasL expression on carcinoma cells have been shown by immunohistochemical staining: (1) up-regulation of FasL expression on carcinoma is positively associated with clinicopathological features in patients, shown by that FasL expression is an early event in epithelial cell transformation (adenoma), followed by an increase in the percentage of FasL-expressing carcinoma cells in high-stage or -grade lesions, and the poorer survival of patients with high levels of FasL expression (Table
2
); and (2) high levels of FasL expression have been seen as an independent factor for clinicopathological features, indicated by the positive staining of persistent FasL expression regardless of tumor stage, histologic grade, invasion and metastasis in many studies [
47
,
58
–
61
]. All of these observations suggest that FasL expression is critical for carcinoma survival by induction of TIC apoptosis. Indeed, the pro-apoptotic function of FasL on carcinoma cells has been demonstrated in both in vitro and in vivo; in co-cultures with a variety of carcinoma cell lines, FasL expressed on carcinoma cells induce apoptosis of lymphocytes in Fas-dependent manner [
49
,
51
,
62
–
66
], and in carcinoma biopsies from patients, the present of FasL on carcinoma cells is in parallel with apoptosis of TICs [
53
,
60
,
67
–
69
] or reduced number of TICs [
70
,
71
]. In the experimental studies with animal models, down-regulation of FasL expression in carcinoma significantly reduces tumor development in syngeneic immunocompetent mice [
72
], while persistent expression of Fas enhances tumor growth along with an increase in lymphocyte apoptosis [
73
,
74
], and is acquired for survival from active specific immunotherapy [
75
].
Table 2
FasL expression in carcinoma cancers
Carcinoma type

Distribution of high FasL expression

References

Colorectal

19% in adenomas, 40% of stage I-II, 67% of stage III and 70% of stage IV of carcinoma

[46]

40.9% in adenoma versus 80.8% in carcinoma

[47]

Higher incidence of metastases and poorer patients' survival associate with FasL positive carcinomas

[48]

0 positive in normal epithelial cells, 2/7 positive in primary tumors, 4/4 positive in hepatic metastatic tumors

[49]

Adrenocortical

37.7% in adenomas versus 100% in the carcinoma

[50]

Bladder transitional cell

1) 0% in normal urothelium, 0% in G1, 14% in G2, and 75% in G3.

2) 13% in superficial Ta-T1 versus 81% in invasive T2-T4

[51]

0% in normal urothelium, 19% in T1, 21% in T2 and 49% in T3

[52]

Pancreatic ductal

1) 82% in primary versus 100% in hepatic metastases

2) Shorter survival for patients associates with FasL positive tumors

[53]

Nasopharyngeal

1) 0% in stage I, 57% in stage II, 58% in stage III and 82% in stage IV;

2) A lower rate of disease-free and overall survival for patients associates with positive FasL expression.

[54]

Gastric

36.2% in adenomas, 68.8% in early carcinoma, and 70.4% in advanced carcinoma

[55]

Cervical

1) 5/14 in inner 2/3 stromal invasion versus 10/10 outer 2/3 stromal invasion;

2) 7/15 without LN metastasis versus 8/9 with LN metastasis;

3) Reduced survival times in patients with FasL-expressing tumors

[56]

Esophageal

1) Higher incidence of LN metastasis associates with the tumors containing >25% FasL expression;

2) All cancer metastases in LN express FasL in >50% of the cells

[57]
Receptor-binding cancer antigen expressed on SiSo cells (RCAS) 1
RCAS1 is a recently characterized human tumor-associated antigen expressed in a wide variety of cancer tissues, and induces cell cycle arrest and/or apoptosis in RCAS1 receptor-expressing immune cells. Like FasL on carcinoma cells, RCAS1 is expressed in a high percentage of carcinoma cells (30-100%) and is significantly correlated with clinicopathological features including a shorter survival time for patients, and with apoptosis or reduction of TICs [76–81]. In co-cultures of interleukin (IL)-2 activated peripheral blood lymphocytes with human oral squamous cell carcinomas cell line (KB cells), lymphocyte apoptosis is associated with the presence of soluble RCAS1 in the medium [77]. In addition, similar to FasL and RCAS1, CD70 overexpressed on RCC promotes lymphocyte apoptosis by binding to its receptor CD27, indicating a proapoptotic role of CD70 in the elimination of TICs as well [82]. All these observations suggest that the direct induction of TIC apoptosis by persistent expression of FasL, RCAS1 or perhaps other apoptosis-inducing ligands (e.g. CD70) on carcinoma cells plays a role in the ability of carcinoma cells to escape from the anti-carcinoma immunity.
Suppression of TIC activity by molecular and cellular factors
Conclusions
The evidence from the limited literature we reviewed clearly indicates that carcinoma development in patients closely correlates to its ability to inactivate effector cytotoxic lymphocytes (i.e. CD8
+
CTL and NK cells), to induce TIC apoptosis and/or to suppress the anti-carcinoma immune response, as indicated by: (1) down-regulation of antigen-presenting protein HLA class I; (2) up-regulation of immunosuppressive proteins, such as cell surface FasL, HLA-G, immune inhibitory ligand B7 family members, secreted cytokine TGF-β and Gal-1, enzyme IDO and perhaps ARG, and (3) induction/expansion of immunosuppressive cells: MDSCs and/or Foxp3
+
Treg cells (Figure
1
). Thus, it must be acknowledged that carcinoma develops multiple adaptation mechanisms against immune surveillance, but different types of carcinoma cancer may use different anti-immune strategies depending on the spectrum of host anti-carcinoma immunity in patients. Further understanding of these mechanisms by which carcinomas cells resist to anti-carcinoma immunity will lead to develop more effective immunotherapyi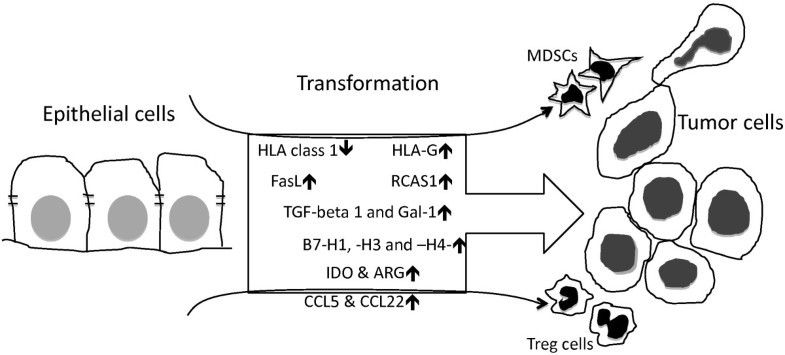 Abbreviations
APC:

Antigen presenting cell
ARG:

Arginase
CTL:

Cytotoxic T lymphocyte
DC:

Dendritic cell
Gal:

Galectin
HCC:

human hepatocellular carcinoma
HLA:

Human leukocyte antigen
HNSCC:

Head and neck squamous cell carcinoma
IDO:

Indoleamine 2,3-dioxygenase
IL:

Interleukin
ILT:

Ig-like transcript
KIR:

Killer cell immunoglobulin-like receptor
LC:

Langerhans cell
MDSC:

Tumor-induced myeloid-derived suppressor cell
NK:

Natural killer
NSCLC:

Non-small cell lung cancer
PGE2:

Prostaglandin E2
RCAS1:

Receptor-binding cancer antigen expressed on SiSo cells
RCC:

Renal cell carcinomas
TGF:

Transforming growth factor
TIC:

Tumor-infiltrating immune cell
Treg:

Regulatory T cel
UCC:

Urothelial cell carcinoma.
Declarations
Acknowledgements
The authors would like to thank Dr. Michael E. Cox (Vancouver Prostate Centre, BC) for constructive comments, and want to apologize to those authors important contributions to this field are not mentioned in this review because of the length limitation.
Funding
This work was supported by the start-up funding from the University of British Columbia and the Vancouver Coast Health Research Institute (C.D.) and a grant from the Canadian Institutes of Health Research (Y.Z.).
Authors' Affiliations
(1)
Department of Urologic Sciences, University of British Columbia, Vancouver, Canada
(2)
Immunity and Infection Research Centre, Vancouver Coastal Health Research Institute, Vancouver, Canada
(3)
Vancouver Prostate Centre, Vancouver, Canada
(4)
Living Tumor Laboratory, BC Cancer Agency, Vancouver, Canada
Copyright
© Du and Wang; licensee BioMed Central Ltd. 2011
This article is published under license to BioMed Central Ltd. This is an Open Access article distributed under the terms of the Creative Commons Attribution License (http://creativecommons.org/licenses/by/2.0), which permits unrestricted use, distribution, and reproduction in any medium, provided the original work is properly cited.