A fresh look at zebrafish from the perspective of cancer research
Journal of Experimental & Clinical Cancer Research
2015
34:80
Received: 22 June 2015
Accepted: 28 July 2015
Published: 12 August 2015
Abstract
Zebrafish represent a vertebrate model organism that has been widely, and increasingly, employed over the last decade in the study of developmental processes, wound healing, microbe-host interactions, and drug screening. With the increase in the laboratory use of zebrafish, several advantages, such as a high genetic homology to humans and transparent embryos, which allow clear disease evaluation, have greatly widened its use as a model for studying tumor development in vivo. The use of zebrafish has been applied in several areas of cancer research, mainly in the following domains: (1) establishing cancer models by carcinogenic chemical, genetic technology, and xenotransplantation; (2) evaluating tumor angiogenesis; (3) studying tumor metastasis; and (4) anti-tumor drug screening and drug toxicity evaluation. In this study, we provide a comprehensive overview of the role of zebrafish in order to underline the advantages of using them as a model organism in cancer research. Several related successful events are also reviewed.
Keywords
Zebrafish
Cancer model
Angiogenesis
Metastasis
Drug screen
Introduction
Danio rerio, better known as zebrafish, have emerged as a popular model for studying developmental processes and human disorders. Zebrafish share a high level of genetic and physiologic homology with humans, including brain, digestive tract, musculature, vasculature, and an innate immune system [1–6]. Moreover, approximately 70 % of all human disease genes have functional homologs with the species [7]. Zebrafish are prolific reproducers with the potential to produce over 100 embryos per clutch. Their extrauterine development is rapid; the major organs of the zebrafish are fully developed by 24 hours post fertilization (HPF), and they are ready for use in larvae experiments by 3 days post fertilization (DPF). Zebrafish larvae are transparent during the early stages of life (through to 7 DPF), and this phase can be extended to 9–14 DPF by the addition of melanin synthesis inhibitor [8]. Zebrafish are small in size and require inexpensive food. It is easy, therefore, to maintain thousands of larvae in a laboratory at a reasonable cost.
Due to the advantages of genetic homology, physiology, and developmental similarity, zebrafish have increasingly become a desirable tool for studying the development and modeling of human disease [9, 10]. In the transparent embryo and larvae, clear time-lapse non-invasive imaging and protein/cell marker tracking significantly aid the observation of biological and disease processes [11, 12]. Several types of gastrointestinal disorders, such as inflammatory bowel disease, non-alcoholic fatty liver disease (NAFLD), and alcoholic liver disease, can be modeled in zebrafish [13–17]. Zebrafish have also been used in the analysis of complex brain disorders and muscle disease, including depression [18], autism [19], psychoses [20], and muscular dystrophies [21]. In addition, the ability to regenerate both fins and cardiac tissue make zebrafish particularly suitable for studying the wound healing response to various injuries [22].
Because of these advantages, zebrafish have proved to be superior for use in cancer research over the last decade. There are several long-standing methods for establishing a cancer model in zebrafish, including carcinogenic treatment, transgenic regulation, and the transplantation of mammalian tumor cells [23]. By inducing different gene mutations or activating signaling pathways through the use of chemicals, tumors can be induced in a wide variety of organs in zebrafish, such as the liver, pancreas, intestinal canal, skin, muscle, vasculature, and testis [24–28]. Transgenic technology enables the formation of specific types of tumor by the overexpression of particular oncogenes. The xenotransplantation of mammalian tumor cells into zebrafish provides a novel way of studying the interactions between the transplanted tumor cells and the host's vasculature. Zebrafish have also been exploited for the investigation of tumor angiogenesis, which represents a critical step in tumor progression and is a target for anti-tumor therapies. The vascular system in a zebrafish embryo bears a strong resemblance to that in humans, and rapidly forms a single blood circulatory loop at 24 HPF. In zebrafish, the vascular endothelial cells can be stained by a fluorescent protein so that the neovascularization in the tumor microenvironment can be observed in the earliest stage. Tumor metastasis has also been modeled in zebrafish. The fluorescent-stained tumor cells are highlighted in the transparent zebrafish embryos and larvaes, so that the process of metastasizing tumor cells can be accurately tracked at the cellular level. The novel casper zebrafish line, a generation of double pigmentation mutant, even has a completely transparent body in adulthood. This superior generation of zebrafish, in conjunction with fluorescent imaging techniques, allows the noninvasive tracing of stained tumor cells in adult fishes [8]. It is worth mentioning that cancer stem cells account for only a small fraction of tumor cells and are too few in number to be feasibly transplanted in a mammalian model in order to assess metastasis. However, only a very small number of cancer stem cells are required in zebrafish for this purpose because of their small size. Additionally, the high fertility and low maintenance costs of zebrafish makes them suitable for the large-scale screen of antineoplastic drug efficacy and toxicity.
This paper focuses attention on the wide application of zebrafish as a superior model in cancer research, particularly with regard to establishing tumor models, and studying angiogenesis, metastasis, and antineoplastic drug screens.
Discussion
Considering the past two decades, it is easy to see that enormous progress has taken place with regard to zebrafish in terms of modeling human cancers. The wide use of zebrafish sheds greater light on the investigation of gene functions, tumor angiogenesis, tumor metastasis, and the discovery of antineoplastic drugs in cancer research (Fig.
1
).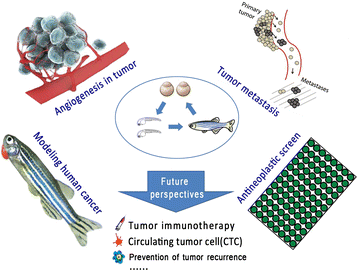 Several problems often trouble cancer researchers. Traditionally, the murine system is the most utilized animal system for studying human cancers. However, the long gestation time greatly lengthens the experimental procedure. In addition, real-time imaging of minute tumor lesions in deep tissues is difficult in a murine system unless autopsy is performed. The high cost of a murine system also rejects the high-throughput screening of drug discoveries.
There is no doubt that zebrafish will play an increasingly significant role in cancer research. Zebrafish have several prominent advantages in modeling human cancers, such as rapid development, a transparent body, high genetic homology, and ease of genetic manipulation. These unique advantages enable primary studies to be assumed before further verification using costly murine systems. Indeed, the ease of establishing a cancer model and the real-time observation of tumor progression in zebrafish greatly improves the efficiency of the experiment. Zebrafish provide a good model for researching the mechanisms of tumor angiogenesis and metastasis because the newly-formed vessels and metastatic tumor cells can be clearly marked and real-time observed through the transparent body. Additionally, the high reproductive rate and low financial cost of zebrafish enables high-throughput screening of anti-tumor drugs.
However, as an underdeveloped model organism, several weaknesses limit the application of zebrafish in the research community. Only a few versatile tools and validated reagents are suitable for use in zebrafish, in comparison with traditional mammalian models. This prevents us from exploring the details of the molecular and cellular mechanisms involved in cancer development. Zebrafish also have many duplicate genes that significantly complicate genetic manipulation. Forward genetic manipulation is not able to completely knock out both copies of the target genes, and any gene copies remaining will render the phenotype unchanged. CRISPR, a newly developed reverse genetic technology, shows its superiority to overcome this difficulty, as it has the property to remove multiple genes thereby reveal phenotypes [99]. In addition, it is difficult to give some water-insoluble drugs to zebrafish because the carrier solvents may be toxic before the drugs dissolve. Moreover, the embryos need to be raised in water maintained at 28 °C, and this temperature may not be optimum for the metabolism of mammalian tumor cells (which require 37 °C). Therefore, raising the incubation temperature to 34 °C may offer an effective compromise. As previously reported, maintaining embryos with transplanted tumor cells in 34 °C water did not affect the vitality of the embryos or the growth of tumor cells [100].
This paper systematically expounds the significance of zebrafish within the field of cancer research. It is a comprehensive summary of the various uses of zebrafish within the field and forecasts a more extensive application of them in the future. Tumor immunotherapy represents a new prevailing therapy in the clinical treatment of tumors. Zebrafish share a similar immune system with humans, so there is, therefore, the prospect of them being used to research the curative effects of tumor immunotherapy. Several other areas, such as tumor recurrence and circulating tumor cells research, will also require a zebrafish model for further exploration of the mechanism and physiologic processes.
In conclusion, zebrafish are increasingly becoming a superior vertebrate model for cancer research and can be expected to provide further contributions to our deeper understanding of the mechanisms of genetic function, angiogenesis, metastasis, and antineoplastic drug screening in the near future.
Declarations
Acknowledgements
This work was supported by grants from the National Natural Science Foundation of China (No. 81402324), Zhejiang Provincial Natural Science Foundation of China (No. LY14H160027). This work was also funded by the Zhejiang Province Key Discipline of Traditional Chinese Medicine(2012-XK-A27, JH).
Open AccessThis article is distributed under the terms of the Creative Commons Attribution 4.0 International License (http://creativecommons.org/licenses/by/4.0), which permits unrestricted use, distribution, and reproduction in any medium, provided you give appropriate credit to the original author(s) and the source, provide a link to the Creative Commons license, and indicate if changes were made. The Creative Commons Public Domain Dedication waiver (http://creativecommons.org/publicdomain/zero/1.0/) applies to the data made available in this article, unless otherwise stated.
Authors' Affiliations
(1)
Department of Surgical oncology, The Second Affiliated Hospital, Zhejiang University School of Medicine, Hangzhou, China
(2)
Department of Gastroenterology, The Second Affiliated Hospital, Zhejiang University School of Medicine, Hangzhou, China