β-arrestin1 at the cross-road of endothelin-1 signaling in cancer
Journal of Experimental & Clinical Cancer Research
2016
35:121
Received: 5 July 2016
Accepted: 24 July 2016
Published: 29 July 2016
Abstract
The advent of targeted therapeutics in human cancer has begun to find novel druggable targets and, in this context, the endothelin-1 receptor (ET-1R), namely ETA receptor (ETAR) and ETB receptor, among the GPCR family represents a class of highly druggable molecules in cancer. ET-1R are aberrantly expressed in human malignancies, potentially representing prognostic factors. Their activation by ligand stimulation initiate signaling cascades activating different downstream effectors, allowing precise control over multiple signaling pathways. ET-1R regulates cell proliferation, survival, motility, cytoskeletal changes, angiogenesis, metastasis as well as drug resistance. The molecular events underlying these responses are the activation of transcriptional factors and coactivators, and downstream genes, acting as key players in tumor growth and progression. ET-1R represent crucial cancer targets that have been exploited for ET-1R therapeutics. Importantly, efforts to explore new information of ETAR in cancer have uncovered that their functions are crucially regulated by multifunctional scaffold protein β-arrestins (β-arrs) which orchestrate the multidimensionality of ETAR signaling into highly regulated and distinct signaling complexes, a property that is highly advantageous for tumor signaling. Moreover, the role of β-arr1 in ET-1 signaling in cancer highlights why the pleiotropic effects of ET-1 and its dynamic signaling are more complex than previously recognized. In order to improve therapeutic strategies that interfere with the widespread effects of ET-1R, it is important to consider antagonists able to turn the receptors "off" selectively controlling β-arr1-dependent signaling, highlighting the possibility that targeting ETAR/β-arr1 may display a large therapeutic window in cancer.
Keywords
EndothelinEndothelin receptorsCancerβ-arrestinG-protein coupled receptors
Background
The endothelin (ET) family comprises three isoforms of small peptides, ET-1, ET-2 and ET-3, products of different genes [1]. ET-2 and ET-3 differ from ET-1 only in two and six amino acid residues, but are separate gene products, with tissue-specific expression. They are synthesized as precursor proteins of about 200 amino acid residues in size, pre-pro-ETs, and then cleaved by a neutral endopeptidase to form an inactive precursor of about 37–41 amino acids, big ETs. Finally, a family of ET-converting enzymes operates the conversion of big ET to the mature 21 amino acids peptides [1]. The levels of prepro-ET-1 are modulated predominantly at the level of transcription, through the involvement of several transcription factors, including activator protein 1, nuclear factor kappa B (NFkB), forkhead box protein O1 (FOXO1), hypoxia-inducible factor 1α (HIF-1α), and GATA2, although both physical and chemical stimuli contribute to alterations in levels of preproET-1 mRNA in physiologic and pathophysiological conditions [1, 2]. In last years, a host of epigenetic modifications have been discovered that allow for precise tuning of DNA exposure and read-out in ET system regulation, also in cancer. Indeed, in colon cancer, hypermethylation of ET-2 and ET-3 genes results in the epigenetic inactivation of ET-2 and ET-3 mRNA and corresponding protein [2]. Recent data highlighted a role of microRNAs (miRNA) to directly target the 3'UTR of ET-1 mRNA for turnover and subsequently to regulate its expression [3], and the list of miRNAs that may modulate ET-1 expression in different cancers, including hepatocarcinoma and gastric cancer, is growing [4, 5].
ETs activate two receptor subtypes that belong to the G protein-coupled receptors (GPCR), known as ET
A
receptor (ET
A
R) and ET
B
receptor (ET
B
R), displaying 63 % similarity [
1
,
2
]. The two receptors can be differentiated by agonists and antagonists binding affinity and in their cellular distributions. The ET
A
R binds ET-1 with the greatest affinity, whereas ET-1, ET-2, and ET-3 all have equal affinity for the ET
B
R. In human tissues alternatively spliced ET
A
R and ET
B
R transcripts have been reported, although the biological significance is still unclear. Epigenetic regulation is important also in the regulation of ET-1R in cancer. Silencing of the ET
B
R gene by DNA methylation was observed in different tumors, allowing to the downregulation of the receptor expression [
6
]. Recently, it has been shown that miR-30a functionally binds the ET
A
R 3'UTR, thereby inhibiting ET
A
R expression in ovarian cancer [
7
]. Moreover, posttranslational modifications, such phosphorylation, palmitoylation, and glycosylation, seem to be essential for the functional activity of both receptors [
1
,
2
]. Based on the expression profiles of the ET-1R, there are cancers that predominantly express ET
A
R, such as ovarian, breast, colon, renal, gastric, pancreatic thyroid, and nasopharyngeal cancers; cancers expressing ET
B
R, such as melanoma, glioblastoma and astrocytoma, and those cancers expressing both ET
A
R and ET
B
R, such as bladder, lung, vulvar cancers and Kaposi's sarcoma [
2
,
6
]. ET-1R has been known for many years to regulate rapid signaling pathways through the involvement of G proteins, according with its nature of GPCR. In this canonical intracellular signaling, after agonist binding, ET
A
R couples to pertussin toxin-insensitive Gq/11 and Gq12/13 proteins, whereas ET
B
R couples to Gi/q and Gq/11 proteins [
1
,
2
,
6
]. Besides G-proteins, GPCR also activates a parallel set of intracellular pathways engaging with β-arrestin (β-arr) -1 or -2, scaffolding proteins that directly bind GPCRs recognizing the agonist-occupied receptor conformation [
8
,
9
] (Fig.
1
).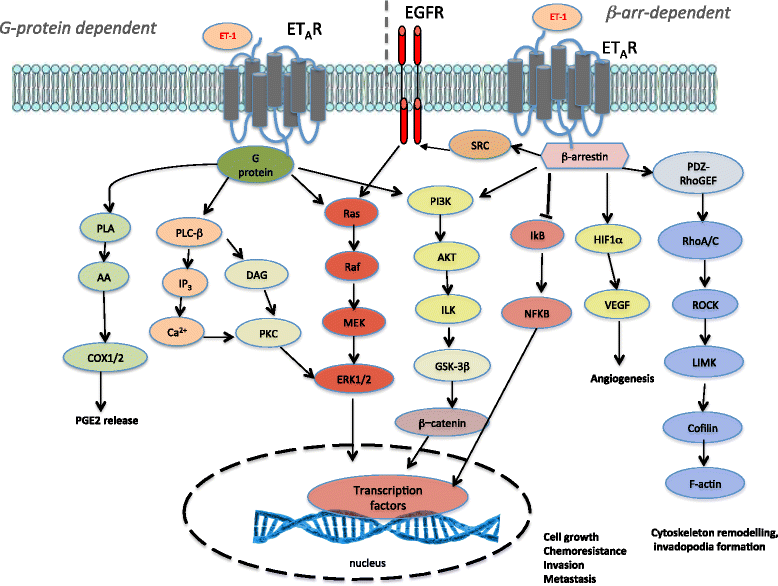 This review is divided into four parts. We first outline how ET-1/ET-1R axis actually underlies many features of cancers; in the second part, we review a large body of works on the specific role of β-arrs in different tumors; in the third part, we detailed the various β-arr-dependent signalings upon ET-1R activation in cancer. Finally, in the fourth part, we delineate the ET-1R cancer therapeutics capable to hamper β-arr-mediated signaling.
Conclusions
β-arr is a well-known primary effector of GPCR pathway, crucial in tumor growth and progression. Increasing evidences have provided insights into the regulation of this protein and its mechanism of action. The findings highlighted in this review offer a broad overview of the biological activity elicited by ET-1R/β-arr in tumorigenesis and metastasis progression. The above information indicates that ET-1/ET-1R axis activates through β-arr1 many signals on epigenetic inputs that sustain ET-1R activities in cancer and tumor microenvironment. Cancer cells may use different cytoplasmic and nuclear roles of β-arr1 in a manner that may change between different tumors and even into tumoral lesions. Thus an important aspect that deserves attention is the mechanism by which nuclear β-arr1 selects transcriptional partners, revealing new players by which ET-1R/β-arr orchestrate cancer cell behaviour and outcomes. A better understanding of these events may suggest therapeutic antitumoral strategies, for example focusing on the ET-1R antagonist currently used in clinical practice, allowing precise control over signaling pathways. Clearly, being able to block ET-1R and turn-out the β-arr functions would represent a new era for ET-1-therapeutics to be exploited for cancer treatment.
Abbreviations
CLL, chronic lymphocytic leukemia; CSC, cancer stem cell; EC, endothelial cells; ECM, extracellular matrix; EGFR, epidermal growth factor receptor; EMT, epithelial-to-mesenchymal transition; ET, Endothelin; ET-1R, endothelin-1 receptor; ETAR, ETA receptor; ETBR, ETB receptor; FOXO1, forkhead box protein O1; GEF, Rho guanine nucleotide exchange factor; GPCR, G protein-coupled receptors; HIF-1, hypoxia-inducible factor; miRNA, microRNAs; MMPs, matrix metalloproteinases; MT1-MMP, membrane type I; NFkB, nuclear factor kappa B; NSCLC, non-small cell lung cancer progression; ROCK1, Rho-associated coiled coil-forming kinase 1; TCGA, The Cancer Genome Atlas; VEGFR-2, vascular endothelial growth factor receptor-2; β-arr1, β-arrestin1
Declarations
Acknowledgments
We gratefully acknowledge all members of the laboratory for their constant support and enthusiasm, and Maria Vincenza Sarcone for secretarial assistance.
Funding
This work was supported by Associazione Italiana Ricerca sul Cancro (AIRC) to A.B. (AIRC 14199) and L.R. (AIRC 16965).
Availability of data and supporting materials
Not applicable.
Authors' contributions
LR and AB conceived of the study, and participated in its design and coordination and drafted the manuscript. Both authors read and approved the final manuscript.
Competing interests
The authors declare that they have no competing interests.
Consent for publication
Not applicable.
Ethical approval and consent to participate
Not applicable.
Open AccessThis article is distributed under the terms of the Creative Commons Attribution 4.0 International License (http://creativecommons.org/licenses/by/4.0/), which permits unrestricted use, distribution, and reproduction in any medium, provided you give appropriate credit to the original author(s) and the source, provide a link to the Creative Commons license, and indicate if changes were made. The Creative Commons Public Domain Dedication waiver (http://creativecommons.org/publicdomain/zero/1.0/) applies to the data made available in this article, unless otherwise stated.
Authors' Affiliations
(1)
Preclinical Models and New Therapeutic Agents Unit, Translational Research Functional Departmental Area, Regina Elena National Cancer Institute, Rome, Italy