Trends and advances in tumor immunology and lung cancer immunotherapy
Journal of Experimental & Clinical Cancer Research
2016
35:157
Received: 14 July 2016
Accepted: 24 September 2016
Published: 29 September 2016
Abstract
Among several types of tumor, lung cancer is considered one of the most fatal and still the main cause of cancer-related deaths. Although chemotherapeutic agents can improve survival and quality of life compared with symptomatic treatment, cancers usually still progress after chemotherapy and are often aggravated by serious side effects. In the last few years there has been a growing interest in immunotherapy for lung cancer based on promising preliminary results in achieving meaningful and durable treatments responses with minimal manageable toxicity. This article is divided into two parts, the first part discusses the role of human immune system in controlling and eradicating cancer and the mechanisms of immune response evasion by tumor. The second part reviews the recent progress made in immunotherapy for lung cancer with results from trials evaluating therapeutic vaccines in addition to immune checkpoint blockade, specifically cytotoxic T lymphocyte associated protein 4, programmed death receptor 1 pathway, using monoclonal antibodies.
Keywords
Lung cancer
Tumor immunology
Immunotherapy
Cancer vaccines
Clinical trials
Immune checkpoint inhibitors
Background
Lung cancer is the leading cause of cancer death and the second most common cancer in the world. According to 2012 GLOBOCAN estimation, the total number of lung cancer new cases was about 1.8 million worldwide. In China, 652842 new cases were recorded in 2012 compared with 733280 new cases in 2015 [1]. For years the standard treatment strategies of lung cancer have been surgery, chemotherapy, radiation therapy and targeted therapy [2]. Recently, tumor immunotherapy is attracting the most attention among different therapeutic options for treatment of lung cancer.
Cancer immunotherapy is a type of cancer treatment designed to boost the body's natural defenses against cancer. It is divided into two categories, passive and active immunotherapy. Passive immunotherapy is defined as an administration of agents such as monoclonal antibodies or adaptive cell therapy that directly target tumor [3, 4]. Whereas, active immunotherapy aims to stimulate the hosts own immune system to eradicate cancer depending on vaccination with tumor antigens, non-specific immunomodulation using bacterial products, or targeting negative regulatory receptors that prevent the development of the tumor immune response [5]. Finally, it should be noted that efficient tumor immunotherapy must induce a potent anti-tumor immune response and overcome the effect of tumor immunosuppression [6].
Cancer immunology
Both innate immunity (Fig.
1
) and adaptive immunity (Fig.
2
) play a crucial role in antitumor immune response. Innate immunity is composed of macrophages, granulocytes, mast cells, DCs and natural killer (NK) cells. Whereas, adaptive immunity is composed of B cells, CD8
+
cytotoxic lymphocytes (CTLs) and CD4
+
helper T cells. It must be mentioned that NK cells and ɣδ T cells play at the interface between innate and adaptive immunity [
7
,
8
]. The roles of innate and adaptive immunity in controlling and eradicating cancers are discussed below.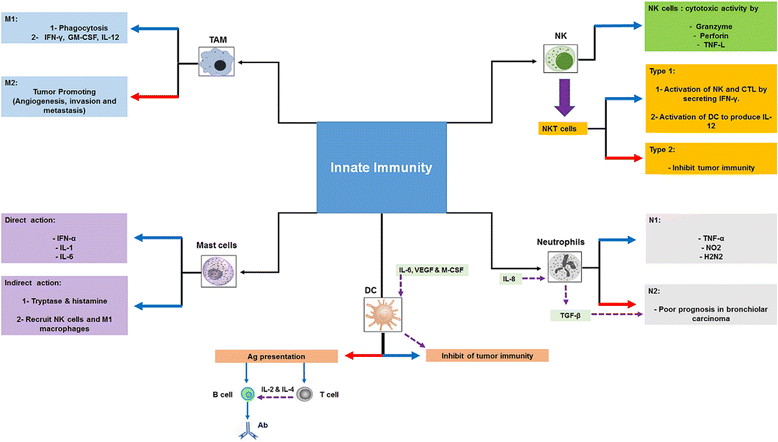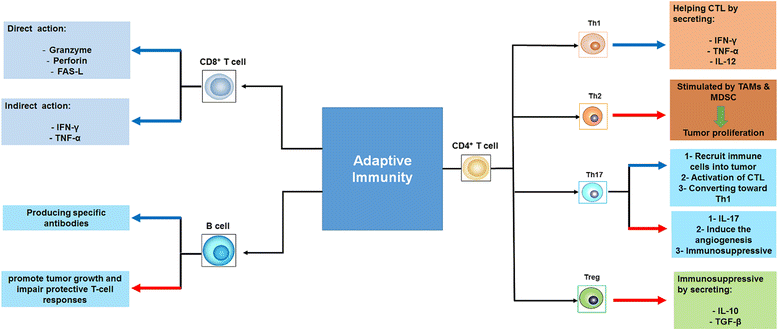 CTLs are considered the backbone of immune response against tumor. Several studies have reported that tumor-infiltrating lymphocytes TILs (mononuclear cells derived from the inflammatory infiltrate in human solid tumors) contain an abundant level of CTLs with an ability to invade tumor cells which they were derived. Recognition of tumor antigen by specific T cells is a necessary prerequisite for the induction of effective antitumor immune response [9–11]. Tumor antigen presentation might be mediated by tumor cells in tumor draining lymph nodes (direct presentation) or via cross-presentation by pAPC [12]. Cross priming of naïve CD8+ T cells by pAPC invokes a program leading to tumor specific CTLs which proliferate and traffic to the tumor site where they ultimately attack and destroy tumor cells [13]. CTLs use various mechanisms to kill tumor cells through granzymes, perforin [14–16], and ligands of the tumor necrosis factor (TNF) superfamily such as Fas ligand [17]. The anti-tumor effect is also achieved by secretion of Interferon gamma (IFN-ɣ) [18] and TNF alpha (TNF-α) [19] from activated CD8+ T cells.
Understanding the importance role of CD4+ T cells in the antitumor immune response has grown dramatically over the past decade. Upon encountering antigens and adequate co-stimulation signals, naive CD4+ T cells are activated, polarized, and differentiated into distinct subsets including Th1, Th2 [20], Tregs [21], Th17, [22], Th9 [23], Th22 [24] and follicular helper T cells (TFH) [25]. Among these various CD4+ T cells subpopulations, Th1 subset plays a clear antitumor role by coordinating cell-mediated immunity against cancer cells [26]. First and foremost, Th1 cells, by producing large amounts of IFN-ɣ and chemokines, enhance the expansion, priming and infiltration of CD8+ T cells into the tumor site [27]. Importantly, The IFN-ɣ which secreted by Th1 cells exerts anti-proliferative, pro-apoptotic actions and inhibit angiogenesis in tumor cells in a CD8+ T cells-independent manner [28]. Th1 cells also recruit and activate inflammatory cells (macrophages, granulocytes, eosinophils and NK cells) in around the tumor [29]. Indeed, Th1 cells can kill MHC-II+ tumor cells directly through perforine and granzyme, TNF-related apoptosis inducing ligand (TRAIL) receptor and Fas/Fas ligand pathways [30].
NK cells have been gaining importance in recent years as an efficient approach in cancer immunotherapy. These cells are able to clear tumor cells directly through several mechanisms. NK cells induce the tumor cell apoptosis by 1) secretion of cytoplasmic granules, perforin and granzymes [31], 2) expression of death receptor-mediated apoptosis [32] or 3) secretion of TNF-α [33] and destroying tumor cells through antibody dependent cellular cytotoxicity by expressing CD16 [34]. Furthermore, NK cells have an indirect antitumor activity through producing cytokines, chemokines and growth factors [35]. The IFN-ɣ which produced by NK cells is responsible for induction of CD8+ T cells to become CTLs as well as differentiation of CD4+ T cells toward a Th1 response [36]. NK cells also induce inflammatory responses; modulate monocyte, DC, granulocyte growth and differentiation; and enhance subsequent adaptive immune responses through their released cytokines [37].
Macrophages play a vital role in antitumor innate response by elimination of apoptotic tumor cells in order to obviate autoimmunity. During apoptosis, tumor cells express special molecules at their surface (lipid phosphatidylserine, oxidized PS, oxidized low-density lipoprotein and the multi-functional protein calreticulin) which are recognized by macrophages and lead to tumor cell phagocytosis [38, 39]. In contrast, it has been documented that tumor-associated macrophages type 2 (M2) are responsible for tumor metastasis [40] and progression [41] by promoting the transfer of tumor cells into the local blood vessels [40] and inhibiting of tumor-specific T cells [41].
Tumor antigens have been classified into two categories, 1) tumor-associated antigens (TAAs) which are expressed by more than one type of tumor cells as well as normal tissues and, 2) tumor specific antigens (TSAs), on the other hand, are products of random somatic point mutations induced by physical or chemical carcinogens and therefore expressed uniquely by individual tumors and not by any normal tissue, representing the only true tumor-specific antigens [42, 43].
Immune response evasion by tumor
The mechanisms that allow cancer to evade the anti-tumor immune response are mainly divided into two categories, intrinsic and extrinsic. Tumor intrinsic mechanism is achieved by immunosuppressive cytokines, vascular endothelial growth factor (VEGF), indoleamine 2,3-dioxygenase (IDO), programmed cell death ligand (PD-L), Fas ligand (Fas-L) and Treg. Tumor extrinsic mechanism is mediated by suppressive cells including alternatively activated M2-like tumour-associated macrophages (TAMs), suppressive T cells, immature APCs, plasmacytoid dendritic cells (pDCs) and heterogeneous population of myeloid-derived suppressor cells (MDSCs) [44].
Lung cancer evades the immune response through multiple mechanisms. For instance, lung cancer cells go through a slow process of immunoediting, in which precancerous cell slowly undergoes selective adaptation to oppose immune surveillance, a phenomenon called "immune sculpting" [45]. Lung cancer cells also disturb the routine processing of their antigens by pAPC through secretion of various proteins including STAT-3, IDO, TGF-β, and IL-10 [46, 47]. Besides, the dense fibrotic stroma around tumor region influences antitumor immunity by limiting access of T cells to tumor cells [48]. Moreover, lung cancer evade the host immune response by down-regulation of MHC class I molecule expression, thereby rendering any endogenous or therapeutic anti-tumor T cell responses ineffective [49]. Finally, lung cancer promotes the increase of immune suppressive cells, specifically Treg [50] and MDSC [51]. These immune suppressive cells accumulate in the tumor microenvironment, promote tumor growth, and downregulate antitumor immune responses [50, 51].
Recently it was revealed that the immune checkpoint molecules, specifically cytotoxic T-lymphocyte antigen-4 (CTLA-4) and programmed death-1 (PD-1), play an important role in tumor immune response evasion. CTLA-4 is a protein receptor expressed on the surface of CTL following their full activation. The binding between CTLA-4 and B7-1 (CD80) or B7-2 (CD86) on APCs prevents the overactivity of T cells under normal conditions. During cancer, T cells express a high level of CTLA-4, so that, cancer can evade the cytotoxic effect of T cells [52, 53]. PD-1 is a surface receptor expressed on the surface of activated T cells, B cells, NK cells, and host tissues. Binding of PD-1 with its ligand (PD-L1) on the surface of APCs leads to the tolerance of T cells [54, 55]. It has been documented that numerous epithelial cancers express PD-L1 which leads to T-cell anergy through binding with their PD-1 molecules [56].
Lung cancer vaccines
Over the last 15 years, numerous efforts have been made to enhance a potent antitumor responses using vaccines to target specific tumor-associated antigens. Although, most studies did not reach their final goals, different subsets analysis showed that, those vaccines could an effective strategy to treat several kinds of tumor including lung cancer. Furthermore, numerous studies indicated that combination of therapeutic vaccines with immune checkpoint inhibitors may play a crucial role in the therapy of lung cancer. Finally, it's important to mention that one of the most important aspect in immunotherapy is designing vaccine that stimulate both a potent immune response and a correlative clinical response. In the following section, we will discuss the efficacy of therapeutic vaccines that have been studied extensively in lung cancer.
Immune checkpoint inhibition
Several studies indicated that immune checkpoints blockade is a very promising in treating a variety of malignancies including lung cancer. Among these immune checkpoint are CTLA-4, PD-1 and PD-L1. Below is a discussion of recent progress made in immunotherapy for lung cancer using immune checkpoint inhibitors.
Inhibition of cytotoxic T-lymphocyte-associated protein 4 (CTLA-4)
In order to recognize and eliminate tumor cells, CTLs require two activating signals, the first signal is provided by TAAs presented by class I molecules on pAPCs [
85
]. The second signal is called "costimulatory signal" which is achieved by binding of costimulatory receptor CD28 on T cells with two costimulatory molecules, B7-1 (CD80) and B7-2 (CD86) on APCs (Fig.
3a
) [
86
]. Once a CTL becomes activated it expresses a fundamental immunosuppressive molecule called CTLA-4 on its surface which then binds with costimulatory molecules on APCs about 20 times more avidly than does CD28 (Fig.
3b
). The balance between activation and inactivation signals keeps cytotoxic activity in check, while allowing T-cell function to work in a self-limited manner [
87
]. It has been documented that one of the most important tumor immune evasion mechanisms is upregulation of CTLA-4 expression on T cells with the help of TGF-β during the early stage of tumorigenesis. In recent years significant progress has been made in developing of specific monoclonal antibodies to inhibit CTLA-4 as a potent strategy in cancer immunotherapy (Fig.
3c
) [
88
,
89
].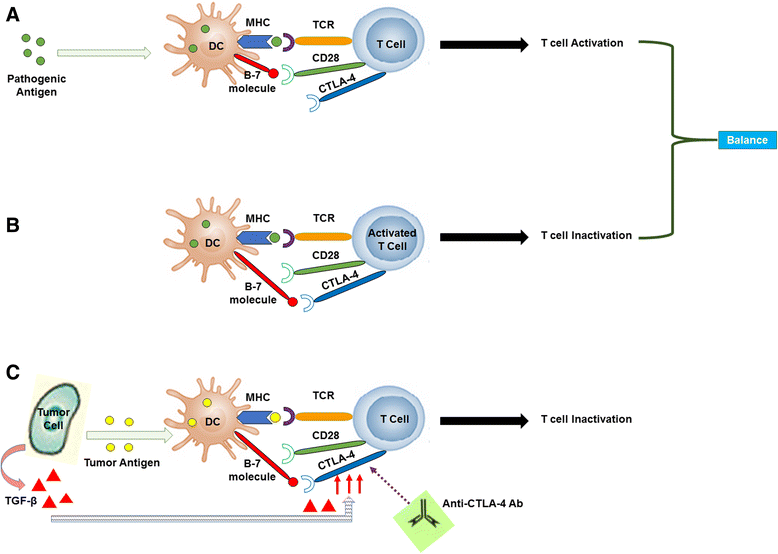 CTLA-4 inhibition by ipilimumab
Ipilimumab (MDX-010) is a fully human IgG1 monoclonal antibody targeting CTLA-4-mediated T-cell suppression to enhance a potent immune response against tumors. In double-blind, multicenter phase II clinical trial; depending on the treatment type, NSCLC patients (N = 204) were divided into three arms of trial, 1) control (chemotherapy with placebo), 2) concurrent ipilimumab (ipilimumab plus chemotherapy, then, placebo plus chemotherapy) or 3) phased ipilimumab (placebo plus chemotherapy, then, ipilimumab plus chemotherapy). Patients were received treatment intravenously every 3 weeks for 18 weeks. The immune-related progression-free survival (irPFS) was assessed as the main endpoint besides other endpoints, progression-free survival (PFS), best overall response rate (BORR), immune-related BORR (irBORR), overall survival (OS), and safety [90].
It has been shown that, phased ipilimumab improved irPFS and PFS compared with control group, the median irPFS associated with phased ipilimumab was 5.7 months and the PFS was 5.1 months. Whereas, low irPFS and median PFS were seen in concurrent ipilimumab (irPFS: 5.5 months, PFS: 4.1 months), and control treatments (irPFS: 4.6 months, PFS: 4.2 months). phased ipilimumab also induced 32 % of irBORR compared with concurrent ipilimumab and control treatments (21 and 18 %, respectively). The median OS associated with phased ipilimumab was 12.2 months versus 9.7 and 8.3 months for concurrent ipilimumab and control groups, respectively (Table 2). The following adverse events (AEs) were similar across study arms, fatigue, alopecia, nausea, vomiting, and peripheral sensory neuropathy. Whereas, rash, pruritus, and diarrhea, showed a trend for increased incidence in the ipilimumab-containing arms than in chemotherapy arm [90].
These promising results lead to "A Randomized, Multicenter, Double-Blind, Multinational, phase III trial" (NCT01285609) in NSCLC which started in 2014 to determine whether the combination of ipilimumab and chemotherapy could extend the life of patients with NSCLC compared with chemotherapy alone, as well as, detecting the PFS and OS among enrolled patients. Results are expected to be revealed in late of 2018.
CTLA-4 inhibition by tremelimumab
Tremelimumab (ticilimumab) is a fully human IgG2 monoclonal antibody with high affinity to CTLA-4. In open-label phase II trial; tremelimumab was tested in 87 patients with NSCLC compared with supportive care only following 4 cycles of chemotherapy. PFS in tremelimumab treated patients was 20.9 % compared with 14.3 % in supportive care group (Table 2). The results revealed that 20 % of patients experienced a grade 3/4 AEs, the most common being colitis [91].
In an open-label, single-arm, phase II trial; 29 patients with advanced mesothelioma were received at least one dose of tremelimumab. This trial did not reach its primary endpoint in which only two patients had a durable partial response. On the other hand, a disease control was noted in 31 % of patients with a median PFS of 6.2 months and median OS of 10.7 months (Table 2). 27 patients experienced a grade 1/2 AEs (cutaneous rash, pruritus, colitis, or diarrhea), and 4 patients experienced at least one grade 3/4 AEs (two gastrointestinal, one neurological, two hepatic, and one pancreatic). The authors concluded that tremelimumab could be an effective treatment strategy in previously treated patients with advanced malignant mesothelioma [92].
Currently, tremelimumab is tested in a randomized phase II trial for advanced mesothelioma (NCT01843374) and in combination with other checkpoint inhibitors for treatment of NSCLC (NCT01843374) [93].
PD-1/PDL-1 pathway
PD-1 (CD279) is a surface receptor on activated T cells, B cells, monocytes, NK cells, and many tumor infiltrating lymphocytes (TILs). Its ligand, PD-L1 (B7-H1; CD274) is expressed on the surface of resting T cells, B cells, DCs, macrophages, vascular endothelial cells, and pancreatic islet cells [94]. The binding between PD-1 and PD-L1 leads to transmitting of an inhibitory signal into T cell which reduces cytokines production and suppresses T cell proliferation [95]. This pathway plays a crucial role in protecting own body against tissue damage during response to infections [96].
It has been found that PDL-1 is over expressed on tumor cells or on non-transformed cells in the tumor microenvironment [
95
] in which PD-1/PD-L1 interaction inhibits the proliferation, survival, and effector function of CTL and thus induces apoptosis of TILs (Fig.
4
) [
97
]. Moreover, PD-L1 molecule plays an important role in differentiation of Treg and maintaining their suppressive function. Recently, the development of anti-PD agents has taken center stage in cancer immunotherapeutic strategies [
98
].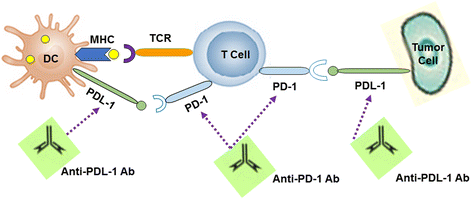 Conclusions
In the last few years there has been a growing interest in cancer immunotherapy due to its promising results in achieving significance and durable treatments responses with minimal manageable toxicity. Cancer immunotherapy has many advantages over chemotherapy or radiotherapy. In this regard, immunotherapy is receiving a particular interest due to its favorable benefits, low risk ratio and durable activity. It also showed a significant advantage by controlling tumor growth after patients stop responding to the standard treatments. One of the most important future directions in cancer immunotherapy is identifying predictive markers which can predict the antitumor effect and survival benefit before the implementation of immunotherapies. Combination therapy is another important approach in tumor therapy. Further investigations are needed to evaluate the role of combination the immunotherapeutic agents with one another and with chemotherapy, targeted therapy or other treatment options to treat cancers.
Abbreviations
AEs:

Adverse events
CTLA-4:

Cytotoxic T-lymphocyte antigen-4
CTLs:

CD8+ cytotoxic lymphocytes
DCs:

Dendritic cells
DFI:

Disease-free interval
DFS:

Disease-free survival
EGF:

Epidermal growth factor
IFN-ɣ:

Interferon gamma
MAGE-A3:

Melanoma-associated antigen-A3
MDSCs:

Myeloid-derived suppressor cells
NK cells:

Natural killer cells
NSCLC:

Non small cell lung carcinoma
OS:

Overall survival
pAPCs:

Professional antigen presenting cells
PD-1:

Programmed death-1
PD-L1:

Programmed death ligand-1
TAAs:

Tumor-associated antigens
TAM:

Tumour-associated macrophages
Treg:

Regulatory T cell
Declarations
Acknowledgments
We gratefully acknowledge the team of "National Natural Science Foundation of China" for their support.
Funding
This work was funded by a grant from the National Natural Science Foundation of China No. 81271699 (Wang Cailian).
Availability of data and supporting materials
Not applicable.
Authors' contributions
Authors have contributed and approved the final manuscript.
Competing interests
The authors declare that they have no competing interests.
Consent for publication
Not applicable.
Ethical approval and and consent to participate
Not applicable.
Open AccessThis article is distributed under the terms of the Creative Commons Attribution 4.0 International License (http://creativecommons.org/licenses/by/4.0/), which permits unrestricted use, distribution, and reproduction in any medium, provided you give appropriate credit to the original author(s) and the source, provide a link to the Creative Commons license, and indicate if changes were made. The Creative Commons Public Domain Dedication waiver (http://creativecommons.org/publicdomain/zero/1.0/) applies to the data made available in this article, unless otherwise stated.
Authors' Affiliations
(1)
Department of Oncology, Zhongda Hospital, School of Medicine, Southeast University, Nanjing, People's Republic of China