Sirtuins in metabolism, DNA repair and cancer
Journal of Experimental & Clinical Cancer Research
2016
35:182
Received: 25 August 2016
Accepted: 19 November 2016
Published: 5 December 2016
Abstract
The mammalian sirtuin family has attracted tremendous attention over the past few years as stress adaptors and post-translational modifier. They have involved in diverse cellular processes including DNA repair, energy metabolism, and tumorigenesis. Notably, genomic instability and metabolic reprogramming are two of characteristic hallmarks in cancer. In this review, we summarize current knowledge on the functions of sirtuins mainly regarding DNA repair and energy metabolism, and further discuss the implication of sirtuins in cancer specifically by regulating genome integrity and cancer-related metabolism.
Keywords
SirtuinDNA damageMetabolismCancerPost-translation modification
Background
Sirtuins, the highly conserved NAD + −dependent enzymes, are mammalian homologs of the yeast Sir2 gene which has been known to promote replicative life span and mediate gene silencing in yeast [
1
]. The sirtuin family comprises seven proteins denoted as SIRT1-SIRT7, which share a highly conserved NAD + −binding catalytic domain but vary in N and C-termini (Fig.
1
). The divergent terminal extensions account for their various subcellular localization, enzymatic activity and binding targets. SIRT1, SIRT6, and SIRT7, are chiefly nuclear proteins, while SIRT3, SIRT4 and SIRT5 predominantly reside in mitochondria and SIRT2 is primarily cytosolic (Fig.
1
). But some of theses proteins are reported to translocate from their typical compartments under specific circumstances [
2
–
4
]. Besides the well-recognized deacetylase function, sirtuins have also evolved as mono ADP ribosyltransferase, lipoamidase (SIRT4), demalonylase and desuccinylase (SIRT5) [
5
,
6
].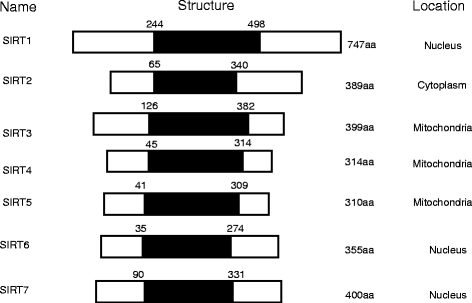 The host cells are constantly subjected to oxidative, genotoxic and metabolic stress. The ratio of NAD+/NADH is correlated with stress resistance, oxidative metabolism and DNA repair [7]. Sensing intracellular NAD+ changes, sirtuins are proposed to work as stress adaptors. Meanwhile, given their diverse enzymatic activities, they are described to play critical roles in regulating post-translational modifications (PTMs), among which acetylation is an important form. Sirtuins deacetylate a multitude of targets including histones, transcription factors, and metabolic enzymes. Taken together, sirtuins have been implicated in numerous cellular processes including stress response, DNA repair, energy metabolism, and tumorigenesis [8, 9].
Aberrant cellular metabolism in cancer cells characterized by elevated aerobic glycolysis and extensive glutaminolysis [10] is essential to fuel uncontrolled proliferation and malignant tumor growth. The Warburg effect, which describes that tumor cells preferentially use glucose for aerobic glycolysis in the presence of ample oxygen [11], has emerged as one of hallmarks of cancer. Even though originally thought to be energy insufficient, Warburg effect is now widely accepted to confer rapid proliferation and invasive properties to tumor cells [12–14]. In parallel, many cancer cells exhibits enhanced glutamine metabolism and cannot survive in the absence of glutamine [15]. Recent studies have shown that a succession of well-established oncogenic cues, including Myc, Ras or mammalian target of rapamycin complex 1 (mTORC1) pathways play imperative roles in inducing glutaminolysis [16–18]. Besides metabolic reprogramming, deregulated DNA-repair pathways and subsequent genome instability appears to facilitate the acquisition of tumorigenic mutations propitious to tumor growth and cancer progression [19, 20].
Mounting evidence has shed light on that sirtuins play diverse parts in cancer [1]. In this review, we summarize an overview and update on the function of sirtuins in metabolism and DNA repair, and further touch on their roles in cancer mainly by affecting genome integrity and cancer-associated metabolism.
Conclusions
Extensive studies over the past few years have pointed out that sirtuins are involved in processes including energy metabolism, genome integrity and carcinogenesis. Remarkably, several sirtuins play a dual role in cancer depending on various tumor types, stages and microenvironment. Thus, deciphering the underlying mechanisms and conditions which enabling their opposing role in cancer may be one of the main challenges and of tremendous therapeutic significance. Also, further work will be needed to dissect whether or how sirtuins connect and coordinate different hallmarks of cancer such as genomic instability, deregulated cell metabolism and aberrant tumor microenvironment.
Declarations
Acknowledgements
We thank Shuang Liu for discussion and proofreading the manuscript. We apologize to colleagues whose work has not been described due to space limitations.
Funding
This work was supported by the National Basic Research Program of China [2015CB553903(Y.Tao)]; the National Natural Science Foundation of China [81372427 and 81672787(Y.Tao)] and the Fundamental Research Funds for the Central Universities [YC2016712 (X.Zhang)].
Availability of data and materials
Not applicable.
Authors' contributions
ZM and XZ were major contributors in writing the manuscript. JY and JH helped to draft the manuscript. YT designed and revised the manuscript. All authors read and approved the final manuscript.
Competing interests
The authors declare that they have no competing interests. The authors are not aware of any affiliations, memberships, funding, or financial holdings that might be perceived as affecting the objectivity of this review. This manuscript has been read and approved by all the authors, and not submitted or under consider for publication elsewhere.
Consent for publication
Not applicable.
Ethics approval and consent to participate
Not applicable.
Open AccessThis article is distributed under the terms of the Creative Commons Attribution 4.0 International License (http://creativecommons.org/licenses/by/4.0/), which permits unrestricted use, distribution, and reproduction in any medium, provided you give appropriate credit to the original author(s) and the source, provide a link to the Creative Commons license, and indicate if changes were made. The Creative Commons Public Domain Dedication waiver (http://creativecommons.org/publicdomain/zero/1.0/) applies to the data made available in this article, unless otherwise stated.
Authors' Affiliations
(1)
Key Laboratory of Carcinogenesis and Cancer Invasion of Ministry of Education, Xiangya Hospital, Central South University, Changsha, China
(2)
Cancer Research Institute, School of Basic Medicine, Central South University, Changsha, China