Metabolic reprogramming: the emerging concept and associated therapeutic strategies
Journal of Experimental & Clinical Cancer Research
2015
34:111
Received: 4 August 2015
Accepted: 11 September 2015
Published: 6 October 2015
Abstract
Tumor tissue is composed of cancer cells and surrounding stromal cells with diverse genetic/epigenetic backgrounds, a situation known as intra-tumoral heterogeneity. Cancer cells are surrounded by a totally different microenvironment than that of normal cells; consequently, tumor cells must exhibit rapidly adaptive responses to hypoxia and hypo-nutrient conditions. This phenomenon of changes of tumor cellular bioenergetics, called "metabolic reprogramming", has been recognized as one of 10 hallmarks of cancer. Metabolic reprogramming is required for both malignant transformation and tumor development, including invasion and metastasis. Although the Warburg effect has been widely accepted as a common feature of metabolic reprogramming, accumulating evidence has revealed that tumor cells depend on mitochondrial metabolism as well as aerobic glycolysis. Remarkably, cancer-associated fibroblasts in tumor stroma tend to activate both glycolysis and autophagy in contrast to neighboring cancer cells, which leads to a reverse Warburg effect. Heterogeneity of monocarboxylate transporter expression reflects cellular metabolic heterogeneity with respect to the production and uptake of lactate. In tumor tissue, metabolic heterogeneity induces metabolic symbiosis, which is responsible for adaptation to drastic changes in the nutrient microenvironment resulting from chemotherapy. In addition, metabolic heterogeneity is responsible for the failure to induce the same therapeutic effect against cancer cells as a whole. In particular, cancer stem cells exhibit several biological features responsible for resistance to conventional anti-tumor therapies. Consequently, cancer stem cells tend to form minimal residual disease after chemotherapy and exhibit metastatic potential with additional metabolic reprogramming. This type of altered metabolic reprogramming leads to adaptive/acquired resistance to anti-tumor therapy. Collectively, complex and dynamic metabolic reprogramming should be regarded as a reflection of the "robustness" of tumor cells against unfavorable conditions. This review focuses on the concept of metabolic reprogramming in heterogeneous tumor tissue, and further emphasizes the importance of developing novel therapeutic strategies based on drug repositioning.
Keywords
Intra-tumoral heterogeneityCancer stem-like cellsMinimal residual diseaseReverse Warburg effectCancer-associated fibroblastsMetabolic symbiosisGlutaminolysisAMPK-mTOR signalDrug-repositioningMetformin
Introduction
Tumor tissue consists of a heterogeneous cellular population. Stromal cells such as neurons, vascular endothelial cells, fibroblasts, and macrophages in cancer tissue drive chemotherapy resistance [1] as well as tumor survival and progression [2, 3]. Even in pure populations of tumor cells, heterogeneity is present as a result of genetic mutation and epigenetic modulations. This cellular heterogeneity can be explained by a hierarchical model, in which cancer stem-like cells (CSCs) can provide transient amplifying cells and differentiated non-CSCs involved in establishing the tumor tissue [4, 5]. CSCs possess several biological features of "stemness", a combination of phenotypes including plasticity in the transition between quiescent (G0 phase) and proliferative states [6] and resistance to redox stress and chemotherapeutic agents [7, 8]. Importantly, accumulating evidence suggests that metabolic reprogramming is crucial in order for CSCs to maintain unlimited self-renewal potential and hyper-adaptation to drastic changes in the tumor microenvironment [9–11].
Intra-tumoral heterogeneity due to the presence of CSCs is primarily responsible for our inability to induce the same therapeutic effect among cancer cells as a whole [
12
,
13
]. CSCs are very likely to contribute to the formation of minimal residual disease (MRD) [
1
]. The term 'MRD' is most often used in the context of hematological malignant disorders [
14
], but the underlying concept is quite convenient in discussion of clinically undetectable resistant clones after conventional anti-tumor therapies [
1
]. Thus, MRD is expected to contribute prominently to latent relapse and distant metastasis (Fig.
1
).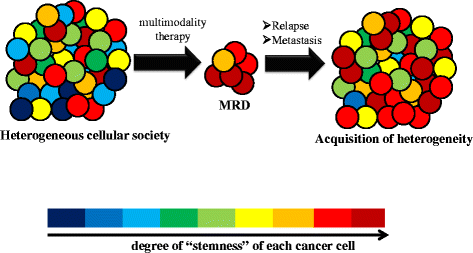 Aberrant proliferation of cancer cells is supported by enhanced adaptation to nutrient microenvironment mediated by alterations in energy metabolism. Consequently, metabolic reprogramming is believed to be one of the hallmarks of tumor cells in parallel with genomic instability, tumor-provoking chronic inflammation, escape from the immune system, etc. [5]. Although aerobic glycolysis, termed the Warburg effect, is a characteristic metabolic feature of cancer cells [15, 16], recent investigations revealed that other metabolic features, in particular, the reverse Warburg effect [17, 18], metabolic symbiosis [19, 20], and addiction to glutamine metabolism [21, 22], create challenges for anti-cancer treatment due to adaptive or acquired chemoresistance. This review article focuses on the relationship between metabolic reprogramming and tumor heterogeneity, as well as on the development of promising therapeutic strategies by drug repositioning targeting metabolic reprogramming.
Conclusions
The complex and dynamic metabolic reprogramming should be regarded as a reflection of the "robustness" of tumor cells against unfavorable conditions. Hyper-adaptation due to metabolic reprogramming of cancer cells is likely to give us a great opportunity to attack the "shatter point" in heterogeneous tumor tissue. DR enables us to identify "silver bullets" for the treatment of tumor tissues in metabolically heterogeneous cell populations. To facilitate development of novel therapeutic strategies, the synergistic effects of repositioned drugs with conventional anti-cancer agents should be evaluated in clinical trials in the near future.
Abbreviations
alpha-KG:

Alpha-ketoglutarate
AMPK:

Adenosine monophosphate-activated protein kinase
CAFs:

Cancer-associated fibroblasts
CSC:

Cancer stem-like cell
CTC:

Circulating tumor cells
DM:

Diabetes mellitus
DR:

Drug-repositioning
ECM:

Extracellular matrix
ENPP1:

Ectonucleotide pyrophosphatase/phosphodiesterase family member 1
GDH:

Glutamate dehydrogenase
HIF-1 alpha:

Hypoxic inducible factor-1 alpha
LAT1:

L-type amino acid transporter 1
MCT:

Monocarboxylate transporter
MMP:

Matrix metalloproteinases
MRD:

Minimal residual disease
mTOR:

Mammalian target of rapamycin
NADPH:

Nicotinamide adenine dinucleotide phosphate
OXPHOS:

Oxidative phosphorylation
ROS:

Reactive oxygen species
TCA:

Tricarboxylic acid
Declarations
Acknowledgements
I would like to thank Professor Hideyuki Saya and Dr. Oltea Sampetrean of Keio University for their kind advice and useful comments to complete this review article.
Open AccessThis article is distributed under the terms of the Creative Commons Attribution 4.0 International License (http://creativecommons.org/licenses/by/4.0/), which permits unrestricted use, distribution, and reproduction in any medium, provided you give appropriate credit to the original author(s) and the source, provide a link to the Creative Commons license, and indicate if changes were made. The Creative Commons Public Domain Dedication waiver (http://creativecommons.org/publicdomain/zero/1.0/) applies to the data made available in this article, unless otherwise stated.
Authors' Affiliations
(1)
Research Fellow of Japan Society for the Promotion of Science, Tokyo, Japan
(2)
Department of Pathological Cell Biology, Medical Research Institute, Tokyo Medical and Dental University, Bunkyo-ku, Japan