Emerging role of lipid metabolism alterations in Cancer stem cells
Journal of Experimental & Clinical Cancer Research
2018
37:118
Received: 28 February 2018
Accepted: 28 May 2018
Published: 15 June 2018
The Correction to this article has been published in Journal of Experimental & Clinical Cancer Research 2018 37:155
Abstract
Background
Cancer stem cells (CSCs) or tumor-initiating cells (TICs) represent a small population of cancer cells with self-renewal and tumor-initiating properties. Unlike the bulk of tumor cells, CSCs or TICs are refractory to traditional therapy and are responsible for relapse or disease recurrence in cancer patients. Stem cells have distinct metabolic properties compared to differentiated cells, and metabolic rewiring contributes to self-renewal and stemness maintenance in CSCs.
Main body
Recent advances in metabolomic detection, particularly in hyperspectral-stimulated raman scattering microscopy, have expanded our knowledge of the contribution of lipid metabolism to the generation and maintenance of CSCs. Alterations in lipid uptake, de novo lipogenesis, lipid droplets, lipid desaturation, and fatty acid oxidation are all clearly implicated in CSCs regulation. Alterations on lipid metabolism not only satisfies the energy demands and biomass production of CSCs, but also contributes to the activation of several important oncogenic signaling pathways, including Wnt/β-catenin and Hippo/YAP signaling. In this review, we summarize the current progress in this attractive field and describe some recent therapeutic agents specifically targeting CSCs based on their modulation of lipid metabolism.
Conclusion
Increased reliance on lipid metabolism makes it a promising therapeutic strategy to eliminate CSCs. Targeting key players of fatty acids metabolism shows promising to anti-CSCs and tumor prevention effects.
Keywords
Cancer stem cells
Lipid metabolism
Metabolomics
Lipid droplets
Lipid desaturation
de novo lipogenesis
Fatty acid oxidation
Background
Cancer stem cells (CSCs) or tumor initiating cells (TICs) are small subpopulations (0.001–0.1%) of cancer cells that may account for cancer initiation, metastasis, therapy resistance, and recurrence [1, 2]. CSCs exhibit self-renewal and tumor-initiating properties and are able to recapitulate the bulk hierarchy of cancer tissues [3]. Evidence suggests that epithelial-mesenchymal transition (EMT) is associated with stemness acquisition. Cancer cells after EMT usually exhibit stem cell-like characteristics, and thus CSCs are also believed to act as metastasis-initiating cells [4–8]. The origin of CSCs is still under debate. It has been proposed that CSCs may arise from normal stem cells or tissue progenitor cells as a result of stochastic genetic mutations and epigenetic alterations [9]. Nevertheless, some evidence suggests that differentiated cells might also stochastically dedifferentiate into a more primitive state with tumor-initiating potential [10–12]. Kelly et al. demonstrated that large numbers of leukemia-initiating cells (LICs) can recapitulate the bulk hierarchy of cancer in genetically compatible models [11]. They claimed that the rarity of TICs in xenotransplant experiments is mainly a result of the limited ability of human tumor cells to adapt and survive in an alien (mouse) milieu. However, the hierarchical and stochastic models are not mutual exclusive. Though not all cancers follow the hierarchical model [13, 14], the presence of CSCs is clearly demonstrated in various cancer types using distinct cell surface markers and enzymatic assays, including leukemia [15], breast cancer [16], glioblastoma [17], colorectal cancer [18–20], pancreatic cancer [21–23], liver cancer [24], lung cancer [25], and ovarian cancer [26, 27]. For example, in acute myeloid leukemia (AML), CSCs populations are CD34(+) CD38(−) [15]. In breast cancer, CSCs were identified as CD44(+) CD24(−/low) lineage [16] or ALDH1-positive [28] populations. In glioma, the CD133(+) or CD44(high)/Id1(high) fractions are recognized as CSCs [17, 29]. Overexpression of CD44 variant isoform (CD44v), which is mainly generated by ESRP1 and ESRP2 mediated alternative splicing on CD44 mRNA [30], is observed in various CSCs [31] High level of CD44v8–10 protects CSCs from reactive oxygen species (ROS), which is known to play a "double-edged sword" role in cancer development [31].
Autophagy, Ferroptosis and redox regulation in CSCs
It remains a great challenge to eliminate CSCs and improve the survival of patients, because CSCs are typically quiescent and resistant to conventional radio- and chemotherapy [32, 33]. It was believed that CSCs largely contribute to formation of clinically undetectable minimal residual disease(MRD) after conventional anti-tumor therapies, and therefore are implicated in disease persistence or relapse. Alterations in cellular bioenergetics impart CSCs in MRD to develop adaptive or acquired resistance to anti-tumor therapy, thus leading to tumor recurrence [34]. For example, comprehensive transcriptomic and metabolic analyses of oncogene ablation-resistant pancreatic cancer cells possessing CSCs characteristics revealed enhanced mitochondrial respiration but diminished dependence on the Warburg effect, as well as increased autophagy and lysosome activity, suggesting metabolic alterations and active autophagy are critical features of CSCs [35]. Autophagy primarily acts as a lysosomal dependent metabolic-recycling mechanism which is important for cell survival in stress [36–38]. It has been considered that autophagy may exert a anticarcinogenic role in early stage of cancer development by safeguarding against genomic instability through the clearance the old and dysfunctional mitochondria and protein aggregates [36, 39]. Furthermore, autophagy may exert tumor suppressive function through destabilizing the transcription factor nuclear factor erythroid 2-related factor 2 (NRF2), which imparts tumor cells with resistance to redox stress [40]. Nevertheless, active autophagy is recognized as one of the hallmarkers of cancer [41]. In established cancers, constitutive activation of autophagy contributes to accquired therapeutic resistance. For example, active autophagy protects glioblastoma multiforme (GBM) cells from the unfavorable tumor microenvironment characterized by hyper-oxidative, hypoxic, nutrient-poor conditions [42]. Further more, compelling evidence suggests that autophagic-lysosomal pathway largely contributes to generation, maintenance and differentiation of CSCs [43]. Many studies have shown that CSCs frequently have higher basal level of autophagy than that of non-stem cancer cells. Active autophagy help CSCs to rapidly respond to metabolic stress to maintain their energetic balance. For example, the fusion of lipid droplets with autophagosomes, a process named lipophagy, confer a survival advantage on oncogene ablation-resistant pancreatic cancer cells through increase of fatty acid β-oxidation [35]. A number of studies have shown either chemical or genetical blockade of autophagy impairs self-renewal and tumorigenicity of CSCs [44–46]. Recent studies revealed that some of "conventional" agents used in non-cancerous diseases treatment exert antitumor therapeutic effects by modulating autophagic pathway, suggesting that drug re-positioning targeting autophagy may be a promising therapeutic strategies for human malignancies [40].
Ferroptosis is recognized as an iron-dependent form of nonapoptotic cell death implicated in various human diseases, including ischemic tissue damage and human malignant diseases [47]. Recent study unveiled the crucial role of autophagy in ferroptosis. Pharmacological induction of ferroptosis leads to lysosomal degradation of cellular iron storage proteins ferritin and ferritinophagy cargo receptor NCOA4 in an autophagy dependent manner (a process known as ferritinophagy), suggesting the close relationship between ferroptosis and autophagic cell death [48]. Recently, a synthetic derivative of natural product salinomycin named as ironomycin sequesters lysosomal iron and induces ferroptosis, showing a selective antitumor activity against breast CSCs in vitro and in vivo [49]. In addition, ferroptosis is triggered by iron-dependent excessive lipid hydroperoxides accumulation due to insufficient antioxidant glutathione (GSH) level, the cystine/glutamate antiporter system x(c)(−) is likely to be involved [50]. System x(c)(−) is composed of a light chain, xCT, and a heavy chain, 4F2 heavy chain (4F2hc) [50]. Upregulation of xCT contributes to drug resistance in pancreatic cancers [51]. Up-regulation of xCT also has been demonstrated in other cancers in including lymphomas [52], and gliomas [53, 54]. CD44v has recently been shown to involved in the scavenging of ROS via the stabilization of xCT protein at the cellular membrane, thus activation of CD44v-xCT-GSH axis play a crucial role in redox regulation of CSCs and is likely contribute to the relapse and distant metastasis after repeated radiation therapy [55]. Remarkably, chemotherapy is able to induce ectopic expression of CD44v, which is evidenced in osteosarcoma and hepatic cancer cells of the Li-Fraumeni patient [56]. This is probably due to the selective clonal amplification of undetectable number of CD44v8–10-positive CSCs under the pressure of excessive ROS after radiation and chemotherapy.
Metabolic alterations in human Cancer
Cancer cells exhibit a distinct metabolic profile as compared to it's normal counterparts. Due to the rapid tumor cells proliferation and inadequate blood vessels formation, tumor microenviroments are characterized by hypoxic, hyper-oxidative, acidic and nutrients-poor conditions, therefore cancer cells must adapt it's cellular bioenergetics efficiently to deal with this kind of unfavorable microenvironments, a process named metabolic reprogramming. Metabolic reprogramming is essential to sustain cancer cells proliferation and survival when the oncogenic signaling is blocked [35, 57]. Most human cancers show constitutive aerobic glycolysis even in oxygen-rich conditions, a phenomenon called Warburg effect [58, 59]. This kind of metabolic rewiring not only satisfies the energy demands for continuous proliferation, but also provides plenty of building blocks for cellular compartments. Metabolic regulation of stemness is increasingly recognized as fundamental in the control of stem cell fate. In contrast to most differentiated cells, pluripotent stem cells (PSCs) rely primarily on aerobic glycolysis rather than mitochondrial oxidative phosphorylation(OXPHOS) to minimize ROS production, which impairs self-renewal ability [60, 61]. Reduced mitochondrial respiration in quiescent hematopoietic stem cells (HSCs) prevent oxidative damage from ROS, enabling long-term survival because HSCs are sensitive to ROS [62]. Aerobic glycolysis also contributes to acquisition of stemness in CSCs. It has been demonstrated that poorly differentiated cancers show much higher glucose uptake than differentiated cancers, suggesting that a high glycolytic flux in tumor tissues mainly results from a blockade of CSCs differentiation [63]. Conversely, activation of mitochondrial metabolism leads to loss of pluripotent potential and induction of differentiation in P19 embryonal carcinoma stem cells [64]. Recently, Peng et al. demonstrated that breast cancer stem cells (BCSCs) have high levels of pyruvate dehydrogenase kinase 1 (PDK1), which inhibits mitochondrial OXPHOS. Depletion of PDK1 significantly diminishes ALDH1-positive BCSCs, which leads to decreased sphere-formation ability [65], suggesting targeting aerobic glycolysis may be usefull to eliminating CSCs. However, to date, attempts to inhibit glycolysis as cancer therapy remain unsatisfactory [66], which is mainly due to CSCs are very heterogeneous and may thus have divergent metabolic landscapes [67]. In addition to glucose, some cancer cells also use glutamine heavily [68]. However, little is known about the role of glutaminolysis in stem cell homeostasis.
Unlike HSCs, normal neuro stem cells(NSCs) show low levels of glycolysis [69], suggesting that the metabolic phenotype of pluripotent cells is highly plastic and strongly influenced by tissue microenviroments and nutrient availability [70]. A growing body of evidences indicates that CSCs/TICs are more dependent on oxidative metabolism than glycolysis [61, 71]. For example, oncogene ablation resistant pancreatic cells with feature of CSCs strongly rely on mitochondrial respiration rather than Warburg effect [35]. CSCs from ovarian cancer primarily rely on fatty acid β-oxidation (FAO) and are resistant to glucose deprivation [72].
Metabolic and redox cues of Phenoconversion in CSCs
As mentioned above, metabolic cues play a central role in cell fate determination. A growing body of literatures indicates that metabolism reprogramming and CSCs properties are two highly entwined processes during tumor development [73]. On one hand, chronic metabolic stress in premalignant environments may drive the phenoconversion of non-stem cancer cells to a stem-like state in a Wnt-dependent manner [74]. In addition, chronic oxidative stress at non-cytotoxic doses promotes neoplastic transformation and stem cell characteristics in kidney epithelial cells [75], suggesting that ROS may act as a "double-edged sword" in the acquisition of stem cell characteristics in a dose-dependent manner. On the other hand, impairment of mitochondrial metabolism via inhibition of complex I or loss of mitochondrial DNA leads to genetic inactivation of p53 and to a glycolytic switch in neural progenitor/stem cells (NPCs), which result in genomic instability and glioma formation and support the notion that metabolic stress triggers the conversion of normal NSCs to a glioma-initiating NSCs [69]. In the established tumor tissues, tumor cells continually undergo persistent and high level of oxidative stress [76]. In terms of the survival against excessive degree of redox stress, CSCs must adapt it's cellular bioenergetics efficiently to this kind of unfavorable conditions, a NRF2-dependent anti-ROS signal pathway may be involved [34] . Activation of NRF2 promotes tumor cells resistant to redox stress, whereas inactivation of NRF2 with the flavonoid chrysin effectively sensitizes BEL-7402/ADM tumor cells to doxorubicin by downregulating the PI3K/Akt and ERK pathways [77]. Redox balance may contribute to autophagy associated drug resistance, that why NRF2 inhibitors suppress cancer stemness and sensitize GBM cells to temozolomide(TMZ), an alkylating agent for GBM and anaplastic astrocytoma treatment, which induces autophagy and subsequent therapeutic resistance [42, 78]. Recently, Yoshida et al. demonstrated that CD44v but not the standard CD44, promotes proteasome degradation of c-Myc protein via suppressing redox stress-induced Wnt activation [31]. High amount of CD44v8–10 cooperate with Fbw7, a well-defined ubiquitin ligase of c-myc protein [79], precisely regulate the proliferation and dormancy cycle of CSCs through modulating c-myc protein stability at the invasive front [31, 80].
Studies unveiled that glioma CSCs reside in either perivascular niche or perinecrotic microenviroment [81, 82]. In the perivascular niche, glioma CSCs interact closely with endothelial cells which secrete factors to maintain the self-renewal of CSCs [81]. It has been demonstrated that the CD44 ligand osteopontin enriched in perivascular niche promotes glioma CSCs-like phenotypes and radiation resistance. These effects were mediated by HIF-2α in a cooperative manner with γ-secretase generated CD44 intracellular domain [83]. On the other hand, a hypoxic and perinecrotic microenviroment, which known to stimulate glycolysis and induce autophagy, promote acquisition of a stem-like state and increase the CSCs population through stabilization of both HIF1 and HIF2 [82, 84, 85]. It has been shown that two of pluripotency transcription factors, OCT4 and c-Myc, were directly activated by HIF-2α [86, 87].
Alterations in lipid metabolism in CSCs
Though the bulk tumor cells and CSCs share some common metabolic features as compared to normal cells, it has been proposed that the metabolic state of TICs/CSCs subtlely differs from that of non- stem cancer cells [88]. Fatty acids metabolism not only supports energy production but also plays an important role in biosynthetic pathways and redox homeostasis. Recent advances in proteomics and metabolomics have deepened our knowledge of the role of fatty acids metabolism in determining CSCs fate [89–91]. For example, Chen et al. described that NANOG, a master factor in controlling stem cell fate, stimulates the generation of stem-like TICs and hepatocellular carcinoma (HCC) oncogenesis via metabolic reprogramming from OXPHOS to fatty acids oxidation [60], suggesting lipid metabolism is fundamental for NANOG positive CSCs.
Lipids are essential components of cell and organelle membranes, and fatty acids are required for proliferation of the bulk tumor mass and also for CSCs maintenance [
89
,
92
,
93
]. There is a strong contribution from the lipid metabolism, whereas the role of glycolysis in CSCs maintenance may be more tumor-specific. For example, glioma stem cells (GSCs) use less glycolysis than differentiated glioma cells but maintain higher levels of ATP production [
94
]. Further more, the glycolytic intermediates could be used by CSCs for de novo lipogenesis to increase self-renewal growth [
66
], suggesting different metabolic pathway could be well coordinated in CSCs to maximize the benefits. Both lipid catabolism and anabolism alterations are associated with acquisition of stemness during cancer development (Fig.
1
). For example, BCSCs exhibit elevated long-chain FAO metabolites compared to non-stem cancer cells. Moreover, inhibition of FAO by etomoxir markedly decreases viability and tumorsphere-forming potential of BCSCs but exert little effect on non-stem cancer cells, suggesting that FAO is critical to self-renewal of BCSCs [
89
].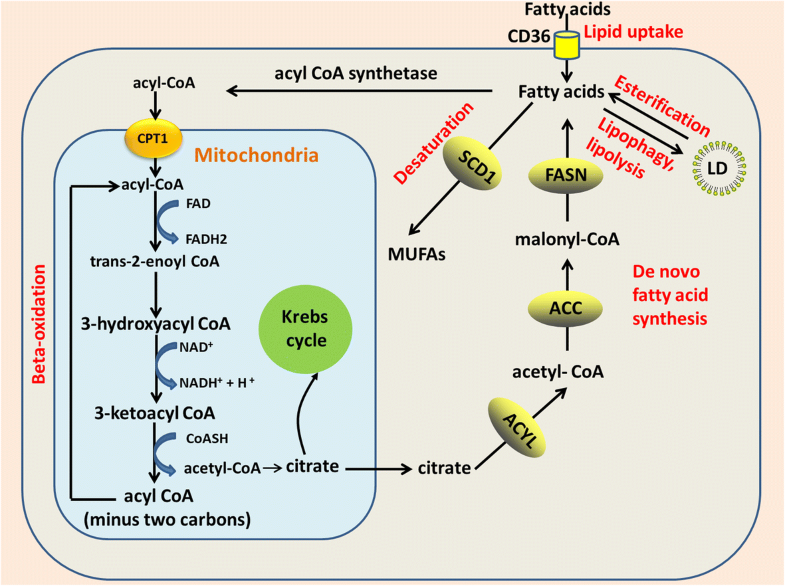 Key modulators of lipid metabolism in CSCs
Targeting lipid metabolism as novel therapeutic strategies against CSCs
CSCs are resistant to most traditional treatments. However, their dependency on lipid metabolism for proliferation and survival offers an Achilles heel for the elimination of these cells. Targeted clearance of CSCs could be achieved by intervening in different aspects of fatty acid metabolism such as lipogenesis, lipid uptake, lipid desaturation, and FAO. Due to the high costs and risk to discover and develop novel therapeutic agents, therapeutic strategies of drug repositioning for difficult-to-cure diseases treatment gain increasing attentions [40]. For instance, terfenadine, a "conventional" agents used to auto-immune disorders such as allergic dermatitis, has been demonstrated to reduce VEGF secretion from mast cells resided in the hypoxic microenvironment, and exerts great potential to kill melanoma cells via ROS-mediated apoptosis and autophagy [199, 200].
Conclusions
Recent advances in metabolomics have deepened our understanding of the contribution of metabolic reprogramming to tumorigenesis, which is now a well-recognized hallmark of cancer [225]. Alterations in lipid metabolism such as increase in fatty acid uptake, de novo lipogenesis, formation of LDs, FAO, and lipid desaturation are intensively involved in CSCs generation and stemness maintenance. Fatty acid metabolism not only satisfies the energy demands and biomass production of CSCs, but also contributes to the activation of several important oncogenic signaling pathways, including Wnt/β-catenin and Hippo/YAP signaling. Targeting key players of fatty acids metabolism shows promising to anti-CSCs and tumor prevention effects.
Although targeting the cell metabolism provides promising opportunities for eliminating CSCs, we have to face the dilemma of heterogeneity and metabolic plasticity of these cells [226–229]. CSCs and tumor cells may adapt its metabolic profile based on nutrients availability. For example, when the Warburg effect is reversed with cetuximab, HNSCC cells express high levels of ACC, which rewires cancer metabolism from glycolysis to lipogenesis to support energy demands and proliferation [230]. Although increased lipogenesis has been well documented in CSCs from various cancer types, most chemical compounds targeting FASN does not show a therapeutic efficacy in pre-clinical cancer models and only one FASN inhibitor has entered clinical trials. Owing to the metabolic flexibility of CSCs, it is difficult to effectively eliminate these cells by targeting a single metabolic pathway. A great challenge is to develop strategies to synergistically target multiple metabolic pathways in CSCs. An additional challenge comes from the metabolic similarities between CSCs and normal stem cells. For example, mitochondrial FAO is essential for NANOG-driven HCC TIC generation [60], but also contributes to expansion of normal HSCs and NSCs [137, 138]. Thus, the side effects of FAO inhibitors on normal HSCs and NSCs will have to be considered.
Abbreviations
ACADM:

Acyl-CoA dehydrogenase medium chain
ALDH1:

Aldehyde dehydrogenase isoform 1
CoA:

Acetyl coenzyme A
CSCs:

Cancer stem cells
EGFR:

Epidermal growth factor receptor
EMT:

Epithelial-mesenchymal transition
FAO:

Fatty acid β-oxidation
HADHA:

Hydroxyacyl-CoA dehydrogenase trifunctional multienzyme complex subunit alpha
HCC:

Hepatocellular carcinoma
HIF1:

Hypoxia-inducible factor 1
HNSCC:

Head and neck squamous cell carcinomas
TBNC:

Triple negative breast cancer
TICs:

Tumor initiating cells
VEGF:

Vascular endothelial growth factor
Declarations
Acknowledgements
We apologize to those researchers whose work in the field could not be cited in the present review due to space constrains.
Funding
This study was supported in part by Grants from The National Natural Science Foundation of China (81372304, 81572667, 81772902), the National "111" Project (Project #111–2-12), The Natural Science Foundation of Hunan Province, China (2018JJ1040).
Authors' contributions
MY, and BX wrote the manuscript. JJL, SNC, JC,YYB, QP, YZ, ZYZ, SPP, XLL, WX, and GYL revised and corrected the manuscript. All authors read and approved the final manuscript.
Ethics approval and consent to participate
Not applicable
Consent for publication
All authors read and approved the final manuscript.
Competing interests
The authors declare that they have no competing interests.
Publisher's Note
Springer Nature remains neutral with regard to jurisdictional claims in published maps and institutional affiliations.
Open AccessThis article is distributed under the terms of the Creative Commons Attribution 4.0 International License (http://creativecommons.org/licenses/by/4.0/), which permits unrestricted use, distribution, and reproduction in any medium, provided you give appropriate credit to the original author(s) and the source, provide a link to the Creative Commons license, and indicate if changes were made. The Creative Commons Public Domain Dedication waiver (http://creativecommons.org/publicdomain/zero/1.0/) applies to the data made available in this article, unless otherwise stated.
Authors' Affiliations
(1)
Hunan Provincial Cancer Hospital and Cancer Hospital Affiliated to Xiangya Medical School, The Central South University, Changsha, China
(2)
Department of Dermatology, Xiangya hospital of Central South University, Changsha, China
(3)
Cancer Research Institute, Xiangya School of Medicine, Central South University, Changsha, China