Therapeutic potential of combined BRAF/MEK blockade in BRAF-wild type preclinical tumor models
Journal of Experimental & Clinical Cancer Research
2018
37:140
Received: 15 February 2018
Accepted: 29 June 2018
Published: 9 July 2018
Abstract
Background
Mounting evidence suggests that RAF-mediated MEK activation plays a crucial role in paradox MAPK (re)activation, leading to resistance and therapeutic failure with agents hitting a single step along the MAPK cascade.
Methods
We examined the molecular and functional effects of single and combined BRAF (dabrafenib), pan-RAF (RAF265), MEK (trametinib) and EGFR/HER2 (lapatinib) inhibition, using Western Blot and conservative isobologram analysis to assess functional synergism, and explored genetic determinants of synergistic interactions. Immunoprecipitation based assays were used to detect the interaction between BRAF and CRAF. The Mann-Whitney U test was used for comparing quantitative variables.
Results
Here we demonstrated that a combination of MEK and BRAF inhibitors overcomes paradoxical MAPK activation (induced by BRAF inhibitors) in BRAF-wt/RAS-mut NSCLC and PDAC in vitro. This results in growth inhibitory synergism, both in vitro and in vivo, in the majority (65%) of the cellular models analyzed, encompassing cell lines and patient-derived cancer stem cells and organoids. However, RAS mutational status is not the sole determinant of functional synergism between RAF and MEK inhibitors, as demonstrated in KRAS isogenic tumor cell line models. Moreover, in EGFR-driven contexts, paradoxical MAPK (re)activation in response to selective BRAF inhibition was dependent on EGFR family signaling and could be offset by simultaneous EGFR/HER-2 blockade.
Conclusions
Overall, our data indicate that RAF inhibition-induced paradoxical MAPK activation could be exploited for therapeutic purposes by simultaneously targeting both RAF and MEK (and potentially EGFR family members) in appropriate molecular contexts. KRAS mutation per se does not effectively predict therapeutic synergism and other biomarkers need to be developed to identify patients potentially deriving benefit from combined BRAF/MEK targeting.
Keywords
MAPK
BRAF
MEK
Combination therapy
Paradoxical effect
Background
The Mitogen-Activated Protein Kinase (MAPK) pathway is a key signaling pathway involved in the physiologic regulation of cell growth, survival, differentiation, apoptosis and migration [1]. Aberrant activation of the MAPK pathway has been implicated in the pathogenesis of many human diseases, including cancer, in which MAPK activation may stem from either genetic aberrations targeting RAS, B Rapidly Accelerated Fibrosarcoma (BRAF), or Mitogen-activated protein kinase kinase (MEK) directly or dysregulation of upstream acting Receptor Tyrosine Kinases (RTK) [2, 3]. MAPK activation is finely regulated at different levels; moreover, in addition to "inter-pathway" crosstalks operating at multiple levels between MAPK and other signaling cascades (e.g. PhosphoInositide3-Kinase (PI3K)/ Protein kinase B (AKT)/ mammalian Target of Rapamycin (mTOR) [4, 5]) "intra-pathway" feedback loops regulate Extracellular-signal-Regulated Kinase (ERK) activity through phosphorylation, intracellular localization, and complex formation [6–8]. As a result, inhibition of a single step (either BRAF or MEK) of the cascade has met with limited clinical success [9], presumably because of the interruption of negative feedback loops leading to downstream pathway (re)activation. Indeed, in some genetic contexts, selective BRAF inhibition has been linked to paradoxical MAPK activation, a phenomenon attributed to the ability of BRAF inhibitors to activate RAF signaling by promoting CRAF-BRAF dimerization, in BRAF wild-type cells [10–12].
Over the past few years, a vertical combination of BRAF and MEK inhibitors (dabrafenib/trametinib or vemurafenib/cobimetinib) has demonstrated striking clinical efficacy and has become a standard of care in patients with BRAF-mut melanoma and lung cancer [13–16], although the molecular mechanisms by which combined BRAF/MEK inhibition results in synergistic anti-tumor activity are still not completely clear and the same combinations have not met with the same therapeutic success in other BRAF-mut cancer type of different histological origin [17]. On the other hand, RAF activation has been shown to be crucial to RAS-mediated transformation and its inhibition, by either isoform-selective or non-selective inhibitors, appears to be essential for effective downstream MEK/ERK inhibition [18] and strikingly synergizes with MEK inhibition in controlling tumor growth and overcoming resistance, particularly in KRAS mutation-driven contexts [19, 20].
Here we analyzed the molecular and functional effects of combined BRAF/MEK inhibition in cell line and patient-derived preclinical models of Non-Small Cell Lung Cancer (NSCLC) and Pancreatic Ductal AdenoCarcinoma (PDAC) and found that selective BRAF inhibition causes paradoxical MAPK activation that could be reversed by simultaneous MEK blockade; functionally, a combination of dabrafenib (selective BRAF inhibitor) and trametinib (selective MEK inhibitor) achieved strikingly synergistic in vitro tumor growth inhibition in a proportion of the models assessed; however, RAS mutational status appears not to be sole determinant of functional synergism between RAF and MEK inhibitors. Indeed, in Epidermal Growth Factor Receptor (EGFR)-family driven models, paradoxical MAPK reactivation appears to be sustained by RTK signaling and may be reversed by EGFR/Human Epidermal Growth Factor Receptor 2 (HER2)- blockade.
Discussion
In this study, we investigated the potential of a combinatorial treatment with small molecules targeting key components of the MAPK pathway, namely BRAF and MEK, in KRAS-mut NSCLC and PDAC. In line with current literature, selective BRAF blockade resulted in paradoxical downstream MAPK activation, which was reversed by simultaneous MEK inhibition. In a consistent proportion (21/32, 65%) of the models examined (both cell lines and patient-derived lung CSC and PDAC organoids), the "vertical" combination of dabrafenib and trametinib (targeting BRAF and MEK) resulted in synergistic tumor growth inhibition in vitro, mostly due to greater inhibition of proliferation achieved with combined treatment. In the MiaPaCa2 xenograft model, combined dabrafenib and trametinib also resulted in significantly greater tumor growth inhibition in vivo, as compared to each agent alone. Pan-RAF inhibitors (such as RAF265) had more variable effects in terms of both paradoxical MAPK activation and functional synergism with MEK inhibitors. Although the combination appeared to be synergistic in the majority of KRAS-mut cell lines, no definitive mechanistic association between KRAS mutational status and functional synergism with combined BRAF/MEK inhibition was found, supporting the idea that RAS mutational status is not the sole determinant of functional synergism between RAF and MEK inhibitors. Indeed, in KRAS-wt contexts, paradoxical MAPK activation in response to BRAF inhibition may still occur and appears to be mediated by upstream signaling through RTKs (namely EGFR family members).
The majority of PDAC (~ 90%) and a high proportion (25–40%) of NSCLC harbor oncogenic activation of KRAS [28–31], which have been demonstrated to be necessary to both initiate and maintain tumorigenesis [32]. Mutant KRAS engages several downstream pathways, including the MAPK signaling cascade, to execute its oncogenic program [28]. While RAS mutations are an established resistance factor to an array of targeted agents [33, 34], clinical attempts at targeting RAS activity, either directly or by targeting common downstream effectors, have failed so far [35]. One appealing strategy would be to target MAPK activation downstream of RAS: indeed, RAF proteins have been shown to be indispensable for RAS-dependent transformation and progression in several cancer models [36–38]; moreover, early evidence has suggested that the presence of KRAS mutations might portend sensitivity to MEK inhibitors [39–45]. However, clinical translation of single-step RAF or MEK inhibition in cancer has been hampered by complex feedback mechanisms that are not only able to reactivate targeted pathways following treatment [18, 46], but also specifically and differentially operate in different tumor genetic backgrounds. According to currently accepted mechanistic models, we show here that exposure of KRAS-mutant cells (including lung CSC and PDAC organoids) to BRAF-selective inhibitors results in the paradoxical activation of the MEK/ERK module, due to the formation of CRAF/BRAF dimers, as previously reported [10–12]. Conversely, in BRAFV600E melanomas no BRAF/CRAF heterodimer formation was observed and both BRAF- and MEK-selective inhibitors efficiently shut down ERK activation (Cesta Incani et al., 2018, manuscript in preparation), even when used as single agents. As a consequence, simultaneous RAF/MEK inhibition has a strong mechanistic rationale in BRAF-wt (and particularly in KRAS-mut) genetic contexts [18–20]. Our findings do support this concept, as striking growth-inhibitory synergism was observed with dabrafenib and trametinib in the majority of NSCLC and PDAC models tested (both cell lines and, most importantly, patient-derived lung CSC and PDAC organoids). However, a few important points remain to be clarified: 1) whether selective or broad-spectrum RAF-isoform inhibition might be more advantageous in combination with MEK inhibitors; 2) the role of KRAS-mut as a potential selection biomarker for the "vertical" RAF/MEK inhibitor combination.
Literature data suggest that CRAF inhibition is crucial to enable MEK inhibitors to effectively inhibit downstream signaling to ERK1/2 [18] and that pan-RAF inhibitors could more potently synergize with MEK inhibitors, as compared with BRAF-selective inhibitors [20]. In our hands, the pan-RAF inhibitor RAF265 had more variable effects, as compared to the BRAF-selective inhibitor dabrafenib, on both paradoxical ERK activation and growth-inhibitory synergism; such discrepancies may be due to several different reasons, including the different dynamics and dose-dependency of inhibition of individual RAF isoforms, cellular ATP levels [10, 47], the specific genetic background of the models tested, and the specific site of action of the MEK inhibitors being combined [18]. Overall, while the general strategy of inhibiting both RAF and MEK along the MAPK cascade appears to be promising even outside the clinically validated BRAF-mut genetic context (see also earlier work conducted by our group in leukemia models, [48]), the optimal selection of agents/mechanisms of action of RAF and MEK inhibitors to be combined remains to be addressed, taking into account the clinical tolerability profile of individual agents/combinations.
Paradoxical MAPK pathway activation in response to BRAF-selective inhibitors was initially closely linked to RAS mutational status, in fact this effect was absent in cells with wild-type RAS, while it was restored after the introduction of an oncogenic RAS [49, 50]. Together with evidence that "vertical" RAF/MEK blockade was synthetically lethal in KRAS-mut contexts [19], such background prompted us to select NSCLC and PDAC, two diseases where KRAS mutations are frequent and bear important clinical consequences, as the main target of our analysis. However, synergism analysis across the entire set of cellular models analyzed displayed no significant correlation between RAS mutational status and synergistic interactions between dabrafenib and trametinib. Such observation was mechanistically corroborated by evidence that pharmacological interactions between BRAF and MEK inhibitors were not substantially modified in isogenic cellular models of lung and colorectal cancer differing for KRAS status. This observation is consistent with evidence that paradoxical MAPK activation in response to BRAF inhibition also occurs in KRAS-wt/BRAF-wt genetic contexts (as shown in this report and in [49]) and supports the idea that RAS mutational status is not the sole determinant of combined treatment outcome. In that respect, complexities in evaluating the role of RAS mutations in driving different tumor phenotypes are highlighted by recent evidence showing that distinct evolutionary routes, licensed by defined allelic states and/or combinations of hallmark tumor suppressor alterations (Cdkn2a, Trp53, Tgfβ-pathway), direct variations of oncogenic RAS dosage gain, to drive the early progression of PDAC and shape its downstream biology [51].
RTKs (and EGFR family members in particular) are a likely candidate to mediate paradoxical MAPK activation in response to inhibition of a single step of the cascade; indeed, EGFR family-mediated (re)activation of either the MAPK pathway itself or other crosstalking pathways (such as the PI3K/AKT axis) has been described in several cancer models, with or without and underlying BRAF or KRAS mutation [52, 53]. Consistent with these data, here we show that in tumor cellular contexts that are highly dependent on EGFR family signaling, such as the HER2-amplified (Calu3) and EGFR-mutant (HCC827) NSCLC cell lines, BRAF inhibition paradoxically reactivated the MAPK pathway in an EGFR/HER2-dependent manner; interestingly, we observed a similar EGFR family feedback activation in response to either BRAF or MEK inhibition in colorectal cancer cell lines and patient-derived cancer stem cells [52] (Bazzichetto C., unpublished results). In this specific context, EGFR/HER2 inhibition by lapatinib was able to shut down paradoxical MAPK hyperactivation in response to dabrafenib, whereas in KRAS-mutant cell lines, in which the need for EGFR family activation is bypassed by constitutively active RAS, lapatinib was ineffective in that respect. Based on this evidence, co-targeting of EGFR family members upstream and MAPK signal transducers (RAF, MEK) downstream has been proposed as a promising therapeutic strategy [52, 54, 55] and, in part, validated clinically in BRAF-mut CRC [45, 56, 57]. However, we did not observe growth-inhibitory synergism in vitro with combined lapatinib and either dabrafenib or trametinib in HER2-amplified or EGFR-mutant NSCLC models. This might be due to the high intrinsic sensitivity of these models to lapatinib: accordingly, recent data show that, in colorectal cancer models, combined blockade of EGFR and MEK intercepts heterogeneous mechanisms of acquired resistance to anti-EGFR therapies and results in therapeutic synergism only once resistance to anti-EGFR agents has ensued [54, 58], suggesting that in highly sensitive models the right setting to apply combinatorial strategies might be treatment-resistant disease.
Conclusions
In conclusion, in this study we show that a "vertical" combination strategy simultaneously targeting BRAF and MEK shuts down BRAF inhibitor-induced paradoxical MAPK activation and may result in therapeutic synergism in preclinical models (both cancer cell lines and patient derived CSC and organoids) of
RAS
-mut NSCLC and PDAC in vitro
.
However, as highlighted in Fig.
8
, which recapitulates our data in a coherent working model, the genetic/molecular background of the cancer cell being targeted crucially determines the outcome of drug interactions: indeed, depending on
KRAS
status and EGFR family dependence, combined BRAF/MEK inhibition may be sufficient to prevent paradoxical MAPK activation and afford synergistic growth inhibition or additional EGFR blockade maybe required to completely shut down the pathway and cell growth/survival. Further studies are needed, particularly to identify potential biomarkers to select out patients at highest chance of benefiting from such a promising combinatorial strategy.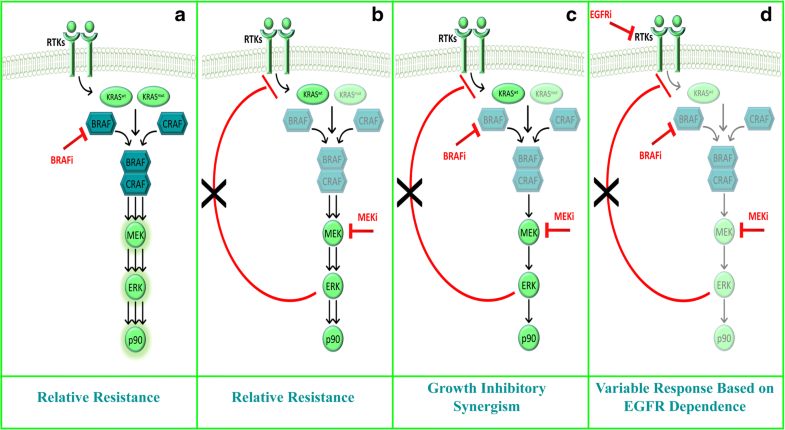 Abbreviations
Ab:

Antibody
AKT:

Protein kinase B
ATCC:

American Type Culture Collection
CI:

Combination Index
EGFR:

Epidermal Growth Factor Receptor
ERK:

Extracellular-signal-Regulated Kinase
HER2:

Human Epidermal Growth Factor Receptor 2
IC50 :

50% of Cell growth Inhibition
IP:

Immunoprecipitation
LCSC:

Lung Cancer Stem Cells
MAPK:

Mitogen-Activated Protein Kinase
MEK:

Mitogen-activated protein kinase kinase
mTOR:

mammalian Target of Rapamycin
NSCLC:

Non-Small Cell Lung Cancer
PDAC:

Pancreatic Ductal AdenoCarcinoma
PI3K:

PhosphoInositide3-Kinase
RAF:

Rapidly Accelerated Fibrosarcoma
RTK:

Receptor Tyrosine Kinase
WB:

Western Blot
Declarations
Funding
This work was supported in part by grants from the Italian Association for Cancer Research (AIRC) (Michele Milella, IG 14362; Vincenzo Corbo, IG 18718; Donatella Del Bufalo, IG 18560), Special Program Molecular Clinical Oncology 5 per mille (Aldo Scarpa, 12182), and EU-CamPac 602783 (Aldo Scarpa). Fabiana Conciatori is a PhD student at the Doctoral School of Oncology of the University of Rome "La Sapienza" and Chiara Bazzichetto is a PhD student at the Doctoral School of Immunological, Hematological and Rheumatological Sciences. Anais Del Curatolo was supported by a fellowship award of the AIRC (19404, 20872).
Authors' contributions
L.C. and M.M. contributed to conception and design of all the experiments, supervised data acquisition and analysis, and wrote the manuscript; A.D.C. and F.C. performed experiments, contributed to data acquisition, analysis and interpretation of the results, and critically revised the manuscript; C.B., U.C.I. and I.F. performed experiments and contributed to data acquisition and analysis; V.C. and S.D. performed organoids experiments and critically revised the manuscript; T.D.L. and D.D.B. performed animal study and critically revised the manuscript; A.E., G.S. and R.D.M. generated CSC, performed and analyzed CSC experiments; I.S. performed all statistical analyses; A.S., M.B., M.M., S.S. and F.C. provided critical reagents, contributed to conception and critically revised the manuscript. All authors reviewed and gave final approval.
Ethics approval and consent to participate
LCSC were derived from tumor samples obtained in accordance with procedures and protocols approved by the internal review board of the Sant'Andrea Hospital, University of Rome "La Sapienza". All patients signed an informed consent form. The use of such material was formally approved by the Ethical Committee/Institutional Review Board of the Regina Elena National Cancer Institute to the commencement of the study.
Pancreatic cancer tissues and adjacent normal pancreas were obtained from patients undergoing surgical resection at the University and Hospital Trust of Verona. All human experiments were approved by the Integrated University Hospital Trust Ethics Committee (approval number 1885). Written informed consent from the donors for research use of tissue in this study was obtained prior to acquisition of the specimen. Samples were confirmed to be tumor or normal based on pathological assessment.
Consent for publication
Not applicable.
Competing interests
The authors declare that they have no competing interests.
Publisher's Note
Springer Nature remains neutral with regard to jurisdictional claims in published maps and institutional affiliations.
Open AccessThis article is distributed under the terms of the Creative Commons Attribution 4.0 International License (http://creativecommons.org/licenses/by/4.0/), which permits unrestricted use, distribution, and reproduction in any medium, provided you give appropriate credit to the original author(s) and the source, provide a link to the Creative Commons license, and indicate if changes were made. The Creative Commons Public Domain Dedication waiver (http://creativecommons.org/publicdomain/zero/1.0/) applies to the data made available in this article, unless otherwise stated.
Authors' Affiliations
(1)
Medical Oncology 1, IRCCS Regina Elena National Cancer Institute, Rome, Italy
(2)
ARC-Net Research Centre and Department of Pathology, University of Verona, Verona, Italy
(3)
University of Rome "La Sapienza", Rome, Italy
(4)
Department of Hematology, Oncology and Molecular Medicine, Istituto Superiore di Sanità, Rome, Italy
(5)
Biostatistics, IRCCS Regina Elena National Cancer Institute, Rome, Italy
(6)
Preclinical Models and New Therapeutic Agents Unit, IRCCS Regina Elena National Cancer Institute, Rome, Italy
(7)
Laboratory of Molecular Pharmacology, Department of Oncology, IRCCS - Istituto di Ricerche Farmacologiche "Mario Negri", Milan, Italy
(8)
Central Research Institute for Advanced Molecular Medicine, Fukuoka University, Fukuoka, Japan
(9)
Institute of General Pathology, Catholic University of the Sacred Heart, Rome, Italy