Role of metabolism in cancer cell radioresistance and radiosensitization methods
Journal of Experimental & Clinical Cancer Research
2018
37:87
Received: 18 December 2017
Accepted: 10 April 2018
Published: 23 April 2018
Abstract
Background
Radioresistance is a major factor leading to the failure of radiotherapy and poor prognosis in tumor patients. Following the application of radiotherapy, the activity of various metabolic pathways considerably changes, which may result in the development of resistance to radiation.
Main body
Here, we discussed the relationships between radioresistance and mitochondrial and glucose metabolic pathways, aiming to elucidate the interplay between the tumor cell metabolism and radiotherapy resistance. In this review, we additionally summarized the potential therapeutic targets in the metabolic pathways.
Short conclusion
The aim of this review was to provide a theoretical basis and relevant references, which may lead to the improvement of the sensitivity of radiotherapy and prolong the survival of cancer patients.
Keywords
RadiotherapyRadioresistanceMetabolic pathwaySensitivityCancer
Background
Cancer is a major health concern, and the conventional treatments for cancer include surgery, chemotherapy, targeted therapies, and immunotherapy. Since tumor cells show sensitivity to the ionizing radiation (IR), radiotherapy emerged as the main type of cancer treatment [1–3]. Radiotherapy directly induces DNA damage or indirectly induces the production of reactive oxygen species (ROS) in cancer cells. Additionally, radiotherapy combined with immunotherapy and chemotherapy may reverse tumor hypoxia by reducing tumor oxygen consumption,and alters tumor immune response, which may lead to considerable clinical improvements in many different types of tumor [4, 5]. Radiotherapy has the advantage of localized application, but the IR was shown to activate several epithelial-mesenchymal transition (EMT) transcription factors, including SNAI1, HIF1 (hypoxia inducible factor 1), ZEB1, and STAT3, promoting cancer cell metastasis [6]. Radioresistance leads to poor prognosis in cancer patients and it represents the main reason for radiotherapy failure, which can ultimately lead to tumor recurrence and metastases [7].
Cancer is closely associated with metabolic disorders [8–10]. Metabolic reprogramming, the alteration of the metabolic pathways in tumor cells during a response to hypoxia or malnutrition, is considered one of the hallmarks of cancer [11, 12]. Aberrant activation of oncogenes and tumor-related signaling pathways can induce the metabolic reprogramming of prostate or breast cancer cells, producing specific metabolic fingerprints [13, 14]. Furthermore, the inactivation of tumor suppressor genes is an important factor underlying tumor metabolic changes [15]. In contrast, metabolic changes can promote the development and progression of cancer as well [10]. Moreover, many studies confirmed that the metabolic syndrome, which includes obesity, cardiovascular diseases, and diabetes, has a profound impact on the occurrence and development of cancer [16–19]. As an important type 2 diabetes mellitus therapeutic, metformin showed efficacy against prostate cancer, breast cancer, and ovarian cancer [20–22], suggesting that the targeting of tumor metabolism may provide a new therapeutic strategy for cancer [23].
Metabolic changes can induce radioresistance as well [24], and the alterations in the glycolytic metabolism were shown to contribute to radioresistance development. Radiotherapy effects primarily depend on glucose metabolism [25, 26], while the mitochondrial metabolic alterations can be involved in this process as well. A comprehensive analysis of the metabolic pathways of cancer patients that underwent radiotherapy revealed an increased expression of genes that regulate mitochondrial functions, autophagy, and lysosomal degradation activities, as well as a strong reliance on mitochondrial respiration and diminished dependence on the Warburg effect [27]. Liu et al. [28] demonstrated that CDK1 mediates the activation of sirtuin 3 (SIRT3), regulates the mitochondrial protein deacetylation, thus promoting the metabolic balance, and enhances mitochondrial functions, inducing the anti-radiation effects in colon, glioma, and breast cancer cells.
Therefore, in this review, we discuss glucose and mitochondrial metabolisms as the main metabolic pathways involved in the radioresistance development. Additionally, we review several sensitizing agents targeting these pathways to enhance the radiosensitivity of cancer patients.
Radioresistance of cancer cells
Since the discovery of the IR in 1895, radiotherapy emerged as the treatment-of-choice for many types of cancer, and has been applied as the first-line therapy for many human malignancies [
29
]. Tumor radiotherapy is a highly targeted and efficient method of destroying cancer cells that can lead to the curing of or palliation of many cancer patients after surgery. The IR induces oxidative stress in cancers cells [
30
], and free OH radicals are considered the IR-induced common mediators of DNA damage, including single-strand breaks (SSB) and double-strand breaks (DSB), which disturb the DNA structure, triggering cell death [
31
]. In addition to the DNA targeting, the IR can affect plasma membrane and subcellular organelles, and induce the activation of cell stress response-related genes and intracellular signaling pathways, triggering cell death [
29
]. Additionally, the irradiated cells may affect their non-irradiated neighbors through the bystander effect, or the transmission of the apoptotic signals to the surrounding unirradiated cells through a direct cellular contact or intercellular communication, which leads the unirradiated cells to exhibit similar biological effects to those of the irradiated cells [
32
]. Combined, these effects lead to the DNA damage, chromosomal instability, mutation and apoptosis in cancer cells, ultimately killing them (Fig.
1
).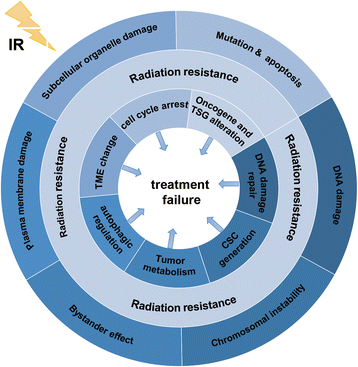 IR is the most effective therapeutic method for the treatment of many tumors; however, owing to radioresistance development, it remains only a conservative cancer treatment [33]. Radioresistance is a process in which the tumor cells or tissues adapt to the radiotherapy-induced changes and develop resistance to the IR. This is a complex process involving multiple genes, factors, and mechanisms [34, 35].
The mechanisms underlying the development of radioresistance have been the focus of many studies, and the main factors involved in this process were shown to be the following (Fig.
1
):
Given the high costs of discovery, development, registration, and commercialization of novel therapeutic drugs, drug repositioning has attracted attention because of the well-known safety profiles of these drugs [54]. For example, terfenadine, commonly used for the treatment of auto-immune disorders such as allergic dermatitis, has been shown to prevent the secretion of VEGF from mast cells localized in the hypoxic microenvironment, and to induce ROS-mediated apoptosis and autophagy of malignant melanoma cells [70, 71]. Artemisinin and disease-modifying anti-rheumatic drugs can affect the response of cells to radiotherapy by regulating autophagy. Therefore, these drugs can be investigated as potential radiosensitizers [54].
Glucose metabolism and radioresistance
Carbohydrates, the main source of cellular energy, mainly participate in the process of the oxidative decomposition of glucose, which comprises glycolysis and oxidative phosphorylation (OxPhos) [72]. In the 1920s, Warburg demonstrated that even in the presence of physiological oxygen levels, cancer cells can have active glycolytic phenotypes. This aerobic glycolysis is known as the Warburg effect, characterized by an increased glucose uptake rate, active glycolysis, and high lactic acid contents [73, 74]. Additionally, the synthesis of NADPH in cancer cells is induced through the pentose phosphate pathway (PPP) and the decrease in OxPhos levels in mitochondria, thereby reducing intracellular ROS levels and increasing tumor dependence on glycolysis [75]. Active glycolysis shows proliferative advantages during somatic cell carcinogenesis, and it represents an important component of malignant phenotype [76].
AKT is an important kinase that regulates various biological processes such as cell proliferation, survival, metabolism, and vascularization. AKT-mediated alterations in the cellular glucose metabolic pathway confer radioresistance to tumor cells when these cells are exposed to radiation for a long time [25]. The inhibition of mitochondrial respiration by mitochondrial respiratory modulators (e.g., di-nitro phenol) leads to a considerable increase in the glycolytic index. The elevated glycolysis rate facilitates the rejoining of radiation-induced DNA strand breaks by activating both non-homologous end joining (NHEJ) and homologous recombination (HR) pathways, thus reducing the radiation-induced cytogenetic damage in cancer cells [77]. Additionally, radiotherapy can result in changes in many relevant molecules in the glycolytic pathway. In contrast, some key molecules in the glucose metabolism or its products, such as glucose transporter 1 (GLUT1), HIF1, and lactic acid, can affect the efficiency of radiotherapy [78–80].
Conclusions
Radioresistance emerged as one of the major obstacles to cancer treatment, and it is caused by numerous factors. An increasing number of studies demonstrated that radioresistance development can be associated with tumor metabolism, as the radiotherapy may induce alterations in many molecules and signaling pathways involved in the tumor cell metabolism, and metabolic changes may affect the efficacy of radiotherapy. Therefore, previous studies investigated the changes in glucose, mitochondrial, and other metabolic processes, and the effects of these changes on cellular radioresistance. Based on these results, many molecules or inhibitors were developed, as shown in Table
1
, which can target specific metabolic processes or molecules, to be used as radiotherapy sensitizers for the inhibition of radioresistance development in tumors. However, these sensitizers induce side effects in many non-cancerous cells, since they do not show high specificity and efficacy. Taken together, the mechanisms underlying the development of radioresistance should be further studied, together with the roles of tumor metabolism in these processes, in order to identify novel, more efficient and specific radiosensitizers, and provide novel strategies for the treatment of malignant tumors.
Table 1
Metabolism-associated targets in radioresistance and the radiosensitization methods
Items

Targets

Radiosensitizer

Reference

Glycose

metabolism

GLUT1

Apigenin,WZB117

MCT1

CHC

[94]

LDHA

FX-11, miR-34

PKM2

miR-133, DADA

HK2

2-DG

HIF

Chetomin, KNK437, 2-ME2,

Barberin, NVP-BEZ235, miR-216a

NSC74859, Stattic, Docetaxel

miR-21, miR-124, miR-144

Mitochondrial metabolism

Oxidative stress

Sorafenib, Ceremides, DADA

MMP

PD98059, HDIs, Paclitaxel
Abbreviations
2-DG:

2-deoxy-D-glucose
ARNT:

Aryl hydrocarbon receptor nuclear translocator
AS-ODN:

Antisense oligonucleotide chain
ATAD3A:

Adenosine monophosphate family protein 3A
CSC:

Cancer stem cell
DDR:

DNA damage response
DSB:

Double-strand break
EMT:

Epithelial-mesenchymal transition
GBM:

Glioblastoma multiforme
GDF15:

Growth differentiation factor-15
GLUT1:

Glucose transporter 1
HIF1:

Hypoxia inducible factor 1
HK2:

Hexokinase 2
HNC:

Head and neck cancer
HR:

Homologous recombination
HSP:

Heat shock protein
IGF:

Insulin-like growth factor
IR:

Ionizing radiation
LDHA:

Lactate dehydrogenase
MAPK:

Mitogen-activated protein kinase
MCT:

Monocarboxylate transporter
MMP:

Mitochondrial membrane potential
MnSOD:

Manganese superoxide dismutase
MRD:

Minimal residual disease
NDRG2:

N-Myc downstream regulatory gene 2
NG2:

Glial cell antigen 2
NHEJ:

Non-homologous end joining
NO:

Nitric oxide
NPC:

Nasopharyngeal carcinoma
NRF2:

Erythroid 2-related factor 2
NSCL:

Non-small cell lung
OxPhos:

Oxidative phosphorylation
PDGF:

Platelet-derived growth factor
PI3K:

Phosphatidylinositol 3-kinase
PK:

Pyruvate kinase
PPP:

Pentose phosphate pathway
ROS:

Reactive oxygen species
sAC:

Soluble adenylate cyclase
SSB:

Single-strand break
TGF-β:

Transforming growth factor-β
TME:

Tumor microenvironment
TMZ:

Temozolomide
VEGF:

Vascular endothelial growth factor
Declarations
Funding
This study was supported by grants from the Overseas Expertise Introduction Project for Discipline Innovation (111 Project, No. 111-2-12), the National Natural Science Foundation of China (81472531, 81472595, 81572787, 81672683, 81672993, 81672688, 81702907 and 81772928), the Natural Science Foundation of Hunan Province (2015JJ1022, 2016JC2035 and 2017SK2105), and the Fundamental Research Funds for the Central South University (2016zzts478 and 2014zzts066).
Authors' contributions
WX, ZYZ, LT conceived this work. All the authors contributed in the preparation of this paper. LT contributed to collecting the data, analysis and drafting the first copy. FW, YFW, YH, FX and ZJG were responsible for searching the literature and editing the manuscript. CG, XYL, HD, KC, MZ, BX, XLL, YL, GYL, WX and ZYZ were responsible for the theme, final editing and preparation of the manuscript for submission. All authors read and approved the final manuscript.
Competing interests
The authors declare that they have no competing interests.
Publisher's Note
Springer Nature remains neutral with regard to jurisdictional claims in published maps and institutional affiliations.
Open AccessThis article is distributed under the terms of the Creative Commons Attribution 4.0 International License (http://creativecommons.org/licenses/by/4.0/), which permits unrestricted use, distribution, and reproduction in any medium, provided you give appropriate credit to the original author(s) and the source, provide a link to the Creative Commons license, and indicate if changes were made. The Creative Commons Public Domain Dedication waiver (http://creativecommons.org/publicdomain/zero/1.0/) applies to the data made available in this article, unless otherwise stated.
Authors' Affiliations
(1)
The Key Laboratory of Carcinogenesis of the Chinese Ministry of Health, Xiangya Hospital, Central South University, Changsha, China
(2)
The Key Laboratory of Carcinogenesis and Cancer Invasion of the Chinese Ministry of Education, Cancer Research Institute, Central South University, Changsha, China
(3)
Hunan Key Laboratory of Nonresolving Inflammation and Cancer, Disease Genome Research Center, The Third Xiangya Hospital, Central South University, Changsha, China
(4)
Hunan Key Laboratory of Translational Radiation Oncology, Hunan Cancer Hospital and the Affiliated Cancer Hospital of Xiangya School of Medicine, Central South University, Changsha, China
(5)
Department of Cancer Biology, Lerner Research Institute, Cleveland Clinic, Cleveland, USA